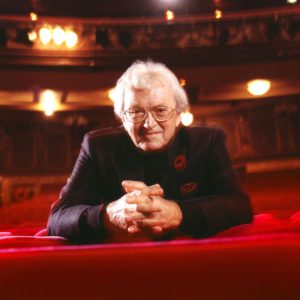 By Geoffrey Huchel
"If you want to view paradise Simply look around and view it Anything you want to, do it Want to change the world, there's nothing to it."
Those famous lyrics, featured in the song "Pure Imagination" were famously sung by the legendary Gene Wilder as "Willy Wonka" in the 1971 classic WILLY WONKA AND THE CHOCOLATE FACTORY. "Pure Imagination", was written by award-winning British composer Leslie Bricusse, and is one of several songs written by Bricusse that is featured in the film. Bricusse passed away October 19, 2021, in Saint-Paul-de-Venice, France. The cause of death was not disclosed. He was 90 years old.
Bricusse's works have been featured in film, TV and stage productions for decades, including STOP THE WORLD- I WANT TO GET OFF (1961), THE ROAR OF THE GREASEPAINT- THE SMELL OF THE CROWD (1965), DOCTOR DOLITTLE (1967), GOODBYE, MR. CHIPS (1969), SCROOGE (1970), PETER PAN (1976), VICTOR VICTORIA (1982 film production), BABES IN TOYLAND (1986), SHERLOCK HOLMES: THE MUSICAL (1989), HOOK (1991), and VICTOR/VICTORIA (1995 Broadway production). Bricusse also wrote the songs "Goldfinger" and "You Only Live Twice" for the James Bond films of the same name.
Bricusse's song "Talk to the Animals" from DOCTOR DOLITTLE earned him an Academy Award for Best Original Song in 1968. Bricusse also earned the Grammy Award for Song of the Year in 1963 for "What Kind of Fool Am I?" for the film STOP THE WORLD-I WANT TO GET OFF.
Ringside Report sends our condolences to Leslie Bricusse's family during their time of grief.
Contact the Feature Writers