"Randy's Ringside" On Ringside Report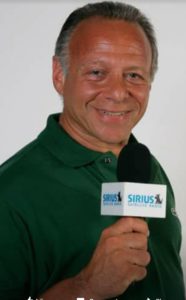 By Randy "The Commish" Gordon
Q: What's next for lineal heavyweight champion Tyson Fury?
A: Anything he wants
It's that simple.
After his probable "Fight of the Year" against Deontay Wilder on October 9, he will most likely take the rest of the year off to enjoy his wife, family and new baby daughter. There's little question he will spend more time hitting the refrigerator than hitting the heavy bag, and balloon to over 300 pounds (which he is only a few meals away from, now). But, hey, he's entitled to it.
He's the heavyweight champion and quite unlike anybody this generation—and perhaps any other generation—has ever seen.
But, we're diehard boxing addicts, and we want our champions to fight. So, after a well-deserved rest, Fury will get back into the gym and prepare for his next fight.
When will that be? Most importantly, who will be in the ring against him?
To the first of those two questions, the chances are that Fury will see more of sugar cookies and sugared desserts than he'll see of his trainer, Sugar Hill, in the next few months. Don't expect Fury to be back in the ring much before the Spring of 2022. Late Spring!
To the second part of that question, the answer seems to rest on whether Fury will take on the winner of the Oleksandr Usyk-Anthony Joshua rematch, which is tentatively scheduled to take place sometime in February. In that case, a Fury v Usyk/Joshua winner won't take place much before mid-Summer, 2022. So, if Fury is willing to wait eight or nine months to fight again, that's what will happen. Keep in mind, Fury just came off a 20-month layoff, plus a mild bout against COVID—to face Wilder. So, an eight or nine-month layoff will seem like eight or nine weeks!
If Fury rests, relaxes and vacations for the remainder of 2021 and even for a few weeks into 2022, he can still get in a solid eight to 10 weeks of training and fight before the end of the Winter. That would keep him ready to face the winner of Usyk-Joshua by next Summer in a massive outdoor fight in an arena such as Wembley Stadium, which can be configured to seat between 85,000-100,000 fans for boxing—and will fill every seat!
From this corner, it is advisable he keep away from these six names: Efe Ajagba, Daniel Dubois, Joe Joyce, Andy Ruiz, Frank Sanchez and Tony Yoka. They are each simply too dangerous for Fury to face in a stay-sharp, tuneup fight.
If Fury does make a March 2022 defense, who could he possibly face, if not the above five names? We have to think a fight in the Winter, pre-Usyk or pre-Joshua, would have to be against a competitive, but non-threatening opponent. They would have to be much like Scott Frank and Ossie Ocasio were to Larry Holmes; what Ron Stander and Terry Daniels were to Joe Frazier; what Frans Botha and Michael Grant were to Lennox Lewis; what Jean Pierre Coopman and Alfredo Evangelista were to Muhammad Ali. Let's take a look at a few of the names Team Fury should explore, and why they would make the most sense to face Fury.
Filip Hrgovic: The big Croatian is a perfect opponent for Fury. His style is tailor-made for the "Gypsy King. Standing 6'6", he is also beefy (around 245 pounds), he is strong and he can punch, as the 11 knockouts in his 13-0 record show. He is 29, ands looks to be in his prime. He won a Bronze Medal in the 2016 Rio Olympics, losing a close decision to the eventual Gold Medalist, Tony Yoka. He is coming off a third-round stoppage of Marko Radonjic in September. Radonjic had taken a 22-0 record into the ring that night. However, that record was padded: 17 of his victims had losing records. Hrgovic, while a hard puncher, is painfully slow. Fury will look good picking him apart.
Michael Hunter: The 20-1-1 (14) Hunter is another perfect opponent for Fury. Although he can, and has, whipped many opponents bigger than himself, he is not in the genre of the 2020's heavyweights—over 6'5" and 245+ pounds. He stands 6'2" and weighs not much more than 220. He really belongs in the newly-created Bridgerweight Division. The one loss on his record came against Oleksandr Usyk on a 12-round decision back in 2017. The other blemish on his record was a split draw against Alexander Povetkin 2019. In his last fight, back in August, he stopped 21-1 Mike Wilson, a decent—but not formidable—opponent in the fourth round. He has a solid chin and may give Fury a long night, but it won't be a rough one.
Luis Ortiz: The transplant from Cuba once was a dangerous, formidable heavyweight contender. He may still be. His record is 32-2, along with 27 knockout victories. His only two losses came against Deontay Wilder (in 2018 & 2019). He is a southpaw who can both box and punch. However, as we said, he may still be a dangerous contender. Yes, may be. That's because he hasn't fought since November 7, 2020, beating Alexander Flores in just :45. His previous fight was a year earlier, when he was KO'd with one right hand by Wilder. So, inactivity hangs over his head almost as much as his age. Records show he is 42. Some say he is older. Still others say he is closer to 52 than he is to 42. He'd be a good opponent for Fury to tune up on. He's no threat to beat Fury, but certainly, a lot worse than Ortiz have challenged for boxing's biggest prize.
Robert Helenius: Boxrec lists Helenius as 6'6½", but he at least an inch-and-a-half taller. He is riding a four-fight winning streak, with all four wins coming by stoppage, the last two against Adam Kownacki, who, going into his first fight against Helenius (2020), was one or two wins away from fighting for the title. Fury is not Kownacki, and Fury would look good taking target practice against the defensively-poor fighter from Finland. Oh, by the way, Helenius is pushing 38. He'd be an interesting look against Fury, but no threat whatsoever to beat him.
Martin Bakole: The 6'6" Bakole is on a six-fight winning streak. A native of The Congo, he now resides in Airdrie, Scotland. His current record stands at 17-1 (13). In his last fight, he came in at 282¼ soft pounds in pounding out 11-2 Haruna Osumanu in the first round. That poundage was 20 pounds heavier than the weight he usually takes into the ring. In his lone loss, he was manhandled, outclassed and stopped in the 10th round by 213¼ pound Michael Hunter. Also, seven or his 17 victories have come against opponents with losing records. There is talk of Bakole fighting again before the end of 2021. The fight would serve as a nice showcase for Bakole on the way to a title challenge against Tyson Fury.
Zhelei Zhang: He's tall and undefeated. That's all. Okay, you can throw 17 knockouts into his 22-0-1 record. But he's slow and clumsy. He pushes his punches. Eight of his 23 opponents have had losing records. Oh, he's 38½. Fury would muscle Zhang around and toy with him. My only question is how many rounds would Zhang last?
Trevor Bryan: This guy is not just an unbeaten heavyweight champion; He is an unbeaten heavyweight champion, which makes him a very marketable challenger for Fury. Yes, you read that right. He is an unbeaten heavyweight champion. Only diehard boxing fans know that Bryan holds a trinket title belt (the WBA "regular" title). That meaningless title, which Bryan won by stopping an old, shot, out-of-shape Bermane Stiverne last January 29 in the 11th round, plus Bryan's unbeaten record of 21-0 (15), should be enough to get him put in with the real heavyweight champion. FYI, in addition to Bryan's stoppage of the blubbery, finished Stiverne, 13 of Bryan's other 20 wins have come against guys with losing records. Yes, Bryan has 15 knockout victories on his record. But, look against who: Guys with 2-24, 2-20, 16-16, 40-20, 2-13, 2-10, 6-12 and 2-17 records. One of the men Bryan couldn't stop was Galen Brown, who came into the fight with a record of 44-33-1. He had been stopped 22 times! Bryan decisioned him! With his impressive stats, Bryan should be a leading candidate for Fury to face in his next title defense.
Tyson Fury sits in the proverbial driver's seat. He will fight when he wants and where he wants.
He will also fight who he wants.
It will be interesting to see exactly who that "who" will be!
Randy "The Commish" Gordon is the Author of the hit book, "Glove Affair". Order your copy by clicking HERE.
[si-contact-form form='2′]