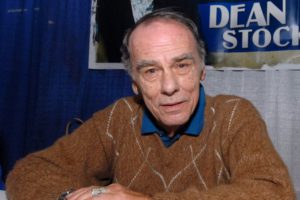 By Geoffrey Huchel
Film, TV and stage actor Dean Stockwell, known for his role on the hit TV series QUANTUM LEAP (1989-1993), died November 7, 2021 in Los Angeles of natural causes. He was 85.
Stockwell began his 7 decade career when he was under contract for Metro-Goldwyn-Mayer as a child actor appearing in films such as ANCHORS AWEIGH (1945), THE GREEN YEARS (1946), and GENTLEMEN'S AGREEMENT (1947) and KIM (1950).
Stockwell's additional film and TV appearances include THE SECRET GARDEN (1949), THE HAPPY YEARS (1950), COMPULSION (1959), ALFRED HITCHCOCK PRESENTS (1955-1962), WAGON TRAIN (1957-1965), THE TWILIGHT ZONE (1959-1964), THE DEFENDERS (1961-1965), BONANZA (1959-1973), MANNIX (1967-1975), COLUMBO (1971-2003), POLICE STORY (1973-1967), HART TO HART (1979-1984), THE A-TEAM (1983-1987), THE LEGEND OF BILLY JEAN (1985),  To LIVE AND DIE IN L.A. (1985), ONCE BITTEN (1985), MIAMI VICE (1984-1989), BLUE VELVET (1986), BEVERLY HILLS COP II (1987), MURDER, SHE WROTE (1984-1996), MARRIED TO THE MOB (1988), THE LANGOLIERS (1995), NOWHERE MAN (1995-1996), CAN'T HURRY LOVE (1995-1996), AIR FORCE ONE (1997), THE RAINMAKER (1997), THE MANCHURAN CANDIDATE (2004), JAG (1995-2005), CRASH (2008-2009), and NCIS: NEW ORLEANS (2014-2021).
Stockwell's stage performances include "The Innocent Voyage" (1943) and "Compulsion" (1957).
Ringside Report sends our condolences to Dean Stockwell's family during their time of grief.
Contact the Feature Writers