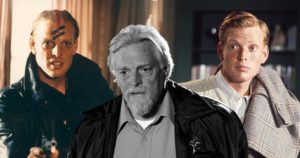 By Geoffrey Huchel
Irish-American actor Gavan O'Herlihy, who was known for playing Chuck Cunningham in the first episodes of HAPPY DAYS (1974-1984) passed away September 15, 2021 in Bath, England. No cause of death was given. He was 70 years old.
O'Herlihy appeared in 9 episodes of HAPPY DAYS until his character, Chuck Cunningham was written out of the series. His short stint on the classic series was just a starting off point for his career. O'Herlihy would go on to make appearances in several films and TV series including THE MARY TYLER MOORE SHOW (1970-1977), THE CALIFORNIA KID (1974), MARCUS WELBY M.D. (1969-1976), THE SIX MILLION DOLLAR MAN (1974-1978), RICH MAN, POOR MAN (1976), THE BIONIC WOMAN (1976-1978), THE AMAZING SPIDER-MAN (1977-1979), SUPERMAN III (1983), NEVER SAY NEVER AGAIN (1983), SPACE RIDERS (1984), DEATH WISH 3 (1985), WILLOW (1988), LONESOME DOVE (1989), TALES FROM THE CRYPT (1989-1996), CHINA BEACH (1988-1991), TWIN PEAKS (1990-1991), STAR TREK: VOYAGER (1995-2001), MIDSOMER MURDERS (1997-) and THE DESCENT: PART 2 (2009).
Ringside Report sends our condolences to Gavan O'Herlihy's family during their time of grief.
Contact the Feature Writers