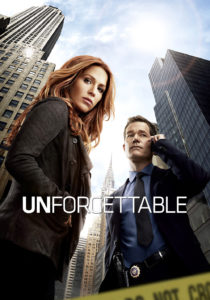 By Donald "Braveheart" Stewart
This is a series which I loved and had a quirky love interest at its heart, a condition little known to me but which exists and the actors I recognized and who had either already made an impression on me OR went on to do so thereafter. You know the thing, someone pops up in a TV screen, you point and exclaim, "Oh God that's erm, them, now what were they in before?"
Unforgettable ran for an unforgettable 4 seasons and 61 episodes. In the UK I can see repeats on Sky – occasionally – but more often on Amazon Prime. Starring Poppy Montgomery, the premise is very simple. Carrie Wells, played by Montgomery, has a memory like no other – she has hyperthymesia – she has the ability to visually remember everything she sees. She has joined the police force as she was 8 when her sister was murdered in Syracuse, and this overarching narrative as central to a lot of the episodes in which she was trying to fit investigations into her sister's death alongside her normal day to day crime solving, and gambling, and misbehaving and dealing with her superpower… She was a complex character!
Alongside Detective Carrie Wells the love interest was Lieutenant Al Burns, played by Dylan Walsh. What was nice in the love interest stakes was that they had previously been a couple and were now apart. We were witnessing the afterwards of a relationship and even though they were intensely in love, and this was obvious, the pressure of them getting together was lessened somewhat but no less intense. We shouted for them to reunite and the obstacles that were placed in their path – not least when Wells' husband turned up, that she had "forgotten about" – were pretty unique!
One of the cheerleaders for their reunion was often the chief medical officer, Dr. Joanne Webster, played by Jane Curtin. Colleagues went from season 1 – Detective Mike Costello – played by Michael Gaston, Detective Roe Sanders played by Kevin Rankin and Detective Nina Inara played by Daya Vaidya – to be replaced by Detective Jay Lee played by James Hiroyuki Liao and Detective Cherie Rollins- Murray played by Tawny Cypress, with Detective "Denny" Padilla in toe for the final season. This band of supportive characters helped make the ensemble piece more ensemble. They saw the relationship between the two principals but only the Chief Medical Examiner was able to call it as she had a close relationship with Carrie. It was all, however to no avail.
Where it really worked for me, and where it fell off the narrative track was Dallas Roberts, playing their boss – Eliot Delson – who had a beautifully sarcastic and caustic manner with humor and immense charm. Once he left the job in season 3, it began to lose focus for me. It lost a huge presence. Season 4 also brought in a new medical examiner in Dr. Delina Michels played by Alani Anthony and a new boss in Captain Sandra Russo played by Kathy Najimy. Some of the sparkle was lost.
Initially a CBS production, it was revived and maintained by A&E when it looked like we were going to lose it; it was cancelled three times in all! CBS cancelled it in 2012, then changed their minds before finally cancelling it in 2014. A&E picked the series up thereafter before they dropped it for the last time in 2016. The final programme saw the death of one of the leads which meant it was not going to return and any return is more than unlikely now.
Poppy Montgomery was one who had made her name in the series Without a Trace and when I saw the very first episode of Unforgettable that was me on my feet going, oh my gosh it is what's her name! it lead to a long standing love affair with the series as it started by watching what was on and then going back to find the very first series and following it in sequence. That helped a lot. It meant that I could see how the development of Carrie and Al's relationship changed and grew. It was a more natural character development than usual in cop dramas. I don't think I have seen this type of narrative done so well. The death at the end of season 4 put paid to any further thoughts but we lost a truly original comic couple.
I suppose part of the authenticity came with the consultant on the show being Marilu Henner who has hyperthymesia. It led to a TV series that still is for me, truly unforgettable… (Sorry…)
British television is a curious affair. Begun through the British Broadcasting Corporation (BBC) it is funded through the universal license fee. In essence, if you wanted to watch the television , you had to pay the license fee. The BBC got it all and is state run, albeit at arms-length. Then came along commercial television in the form of the Independent Television (ITV) in 1955. Designed to bring a bit of competition to the BBC, it was paid for through advertising but still free to air… well they didn't add another license fee to it. By the time that I was born, 1965, there was BBC1, BBC2 and ITV. And that was it. It was still years before Bruce Springsteen would moan that there were 55 channels and nothing on but here in the UK, we kept this going until in 1982, we added a fourth channel and in 1997, a fifth. With sparkling imagination, they were called Channel Four and ehm Channel Five… In between came Sky and we understood what Springsteen meant. And so, my childhood and leading up to early adulthood we had three options… But the programs made were exceptionally good. And so, here is some critical nostalgia as the lockdown has brought a plethora of reruns, new formats and platforms and old classics trying to make their way back into our consciousness as broadcasters flood their schedules with classics… or are they classics at all? Let me take you through an armchair critics' view of what we have to see, to find out… Welcome to the Lockdown Lowdown…
Contact the Feature Writers