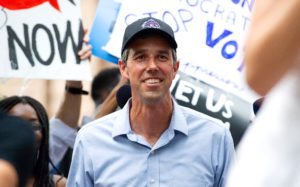 By Nikki Slusher
Following the weeks since former US Representative and US Senatorial candidate Beto O'Rourke's announcement for his bid for the Texas gubernatorial race against incumbent Republican Gov. Greg Abbott, it seems that O'Rourke is shifting his campaign focus on the towns residing on the southern border to help achieve a win this time.
The O'Rourke campaign knows they have a lot of work ahead in these districts after President Joe Biden's underwhelming performance in the areas in the 2020 election. The region is predominantly Hispanic, and Republicans have been trying to grasp control in the area to maintain their control over the Texas State House and Senate, as well as the state's Attorney General and Gubernatorial races. During O'Rourke's own 2018 Senatorial run against Sen. Ted Cruz (R-TX) failed to attain enough Democratic support in the region, it seems as he has learned from past mistakes and is working to gain the support of residents in these areas in hopes that it will bump him above Gov. Abbott's vote count and lead to a win.
Meanwhile, Abbott's team is also planning to prioritize focus on the same regions. The Texas Tribune spoke with Dave Carney, Gov. Abbott's top political adviser, said that Abbott's campaign has "a lot of plans" for the Southern Texas regions in this upcoming election cycle. Mr. Carney told the Texas Tribune that Gov. Abbott is "gonna be there [in the region] a lot" and that they are not currently concerned about the Latino turn out to vote next November. "I want every Hispanic voter to turn out," Carney said. "That helps us."
As for O'Rourke, Democrats believe that he must keep his promise to return to South Texas often throughout his campaign and give the region attention; something President Biden's campaign did not do last year. The border communities have other concerns about "so much more than immigration" said O'Rourke during his various stops last week; however, he will have to learn to navigate through the immigration concerns that are currently his opponent's top issue and could ultimately cost Democrats in Texas political liability and support in 2022.
Monica De La Cruz, a Republican candidate running to flip one of the congressional seats in South Texas, believes that O'Rourke is going to have a hard time convincing Texas voters on his positions about law enforcement, Second Amendment rights, and border security. "I don't think it changes the landscape," De La Cruz said to reporters. "I think that South Texans have conservative values of faith, family and freedom, and I don't think Beto O'Rourke changes that at all."
The University of Texas released a poll on November 21st showing that in the race between Abbott and O'Rourke, Gov. Abbott – who is finishing his second term – has a six-point lead among registered voters at 45% to 39% support for O'Rourke. A remarkable number of registered voters – a whopping 22% — want someone else to be the governor. By almost 2-to-1, all Texas voters are more likely to support Matthew McConaughey than O'Rourke or Abbott; especially among registered Democrats and Independents who've wanted the global superstar to run. He has still not announced any sort of bid.
We are less than one year out from the 2022 midterm elections, and we will keep our readers updated as we continue to cover this race.
Contact the Feature Writers