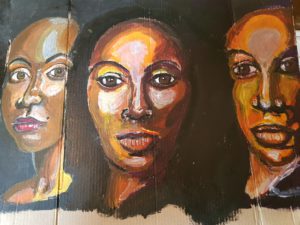 By Radical Rhymes
I've never wanted to be famous, it's just not something that I've ever striven for. At least not consciously. Perhaps we are all trapped in a culture that is forever seeking celebrity though? Maybe there isn't a way out of it at all?
I watched a talent show a long time ago where a young woman shamelessly threw herself at one of the judges while trying desperately to sing. It was truly an appalling spectacle. But the post-performance interview was even worse. She told the host that she would enter a toilet cleaning contest if it led to fame.
Dear Lord!
But that got me to thinking, what is fame really? Everyone knowing you, knowing about you? Is that it? Or is there more? Is it validation? Almost certainly, we all like to be admired. But validation goes beyond that, it means we are worthwhile, worthy. We definitely all need that, although we rarely seek it from within.
Is it the desire for immortality? To have our names remembered past our natural span of years. To enter Halls of Fame, to see our name in lights? Is it just the urgent fear of death we are trying to escape?
I see people yearning for recognition, people like Donald Trump, who have created a cult around them. They would rather be detested than ignored, although they thrive most on the heady fuel of adoration.
I see similar developments on the 'right side of history', individuals that are so desperate for fame that they too seek cult followings. Not friends, not comrades, but followers. They want to have their slice of recognition, to bask in the glory of renown.
And maybe it is all that celebrityville wants us to believe it is? Maybe, just maybe, it is all rainbows and windmills? Maybe I'm wrong, perhaps I should have been seeking recognition all along?
Or maybe it's just another consumer hook? Could it be a trap, a quagmire? The famous don't look all that happy to me. They sometimes rail about the lack of privacy, they often bemoan the inability to just be, to go about their lives unflustered and unmolested.
And it happens over and over again. You see people breaking their backs to burst into the public eye only to regret the freedom the absence of fame entailed. Knowingly and with ignorance aforethought, they danced into the spotlight only to get burned.
No, I think I will avoid the pursuit of fame, as I will refuse to be party to anyone else's mad pursuit of it. I will deny cults and continue to reject their pleas and solicitations.
And, I will do it for their sakes, as well as mine.
Radical Rhymes is a professional artist working with a range of media – predominantly animal/human portraits and landscapes – including, most recently, hand painted furniture. You can see his work on Instagram Radicalrhymes1969 or on Twitter @RhymesRadical.
For commissions, please contact him on Twitter via Direct Message or by email at: radicalrhymes@outlook.com His work is also available to buy on Etsy
Contact the Feature Writers