Gervonta Davis Defends His WBA World Lightweight Title Against Number Seven Ranked Isaac Cruz on December 5th – Boxing News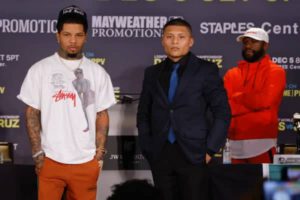 By "Bad" Brad Berkwitt
Photo by Esther Lin/SHOWTIME
This Sunday, December 5th at the Staples Center in Los Angeles California current WBA world lightweight champion Gervonta "Tank" Davis, 25-0, 24 KO's defends hit title for the third time against the number seven ranked WBA challenger, Isaac Cruz, 22-1-1, 15 KO's.
On paper, this fight looks like it will be an early night for "Tank". Cruz does have a few noticeable names on his ledger. His only loss came by a unanimous decision, in his sixth fight back on February 6, 2016, to Luis Miguel Montano, an 8-5 fighter at the time.
Davis' experience with big name opponents and on big stages is 100% a huge advantage for him.
One thing we do know about 'Tank", sometimes he does not take fights seriously with coming in with weight issues or letting personal problems affect his performance. For this fight, I have not heard anything to support that this time.
Both fighters during the final press conference for the fight were quoted as saying:
"He can say whatever he wants right now, but it's different when you get hit in the face."
– "Tank" Davis
"My hunger and will to win is unparalleled. He's going to feel it on Sunday night."
– Isaac Cruz
The fight is on PPV which it has no business being on! It is at best, an ESPN level fight. But once again, boxing shows us the direction that it's  going in which is not a good one for the boxing fans…
Gervonta will fight as the sizable -1400 favorite and Isaac the +700 underdog as seen on sportsbettingdime.com.
[si-contact-form form='1′]