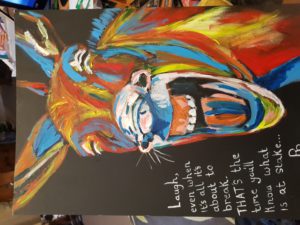 By Radical Rhymes
Something happened to me this week, something I've encountered before, but perhaps never with such vehemence. It was a genuine weariness, a weariness about market transactions, about buying things. Of course, we are surrounded by adverts and sales pitches every day. It's impossible to pick up a newspaper (if anyone still reads those) or see a television programme without being assailed by sellers and their wares. But this event really made me feel tired and dejected.
It wasn't something very important, it wasn't something that should cause such a seismic impact, and yet it did.
I was scrolling through my messages and there it was, an unsolicited communique from a company selling security for mobile phones. I'd signed up for the free app and it works really well – as far as my luddite self can tell. But here was a message telling me that the app was inferior, that it only provided very limited protection from hacking and other intrusions and incursions. And just like that a wave of sadness engulfed me.
What is the problem you ask? You had the free coverage, and here was the company simply offering better coverage at a cost. They gave you something for nothing and all they are asking for is fair recompense for their work and investment. Fine I get that, but it wasn't really about the app, or the company, or the idea that people should be paid for their work, it was something deeper.
I explored the feeling, and it was about the very act and art of consumption at one level. I am tired of commodification, bored with the ubiquity of adverts. I feel jaded when I see people painting sponsor logos on sports fields, and when I see the paint all over the players and their kits. I feel angry that consumption has disrupted so much of our lives.
Christmas is a case in point. I see shops full of gifts obviously, but increasingly new ways to make us buy. Cards that valorise obscure relationships, boxes for presents to give each other on Christmas eve. More things to buy, more seeds of disappointment.
Because no matter how much they sell us consumption it can never fulfil the holes in our existence. No matter how much we want to buy into buying we can never transcend our lives into some material Nirvana. It just isn't going to happen. Buying someone something for Christmas Eve will not prevent the sinking feeling at the end of Christmas Day there are no more gifts, when there are no more consumable salves to our pain and dislocation.
Beyond this the weariness came about through the acknowledgement that market transactions can never fully replace human relationships. We might need to buy from the butcher, the baker, and the candlestick maker, but those relations created by the invisible hand are not nourishing, nor can they exist beyond the superficial.
I am naïve about this, but I ache for a world where we buy less of what we don't need, that we reclaim large parts of lives, and that we have relationships that are real. If we were to refuse this world, stop consuming so much, I cannot see whey we shouldn't be healthier, happier, have more time for ourselves and our real interests.
I am so very, very weary. How about you?
Radical Rhymes is a professional artist working with a range of media – predominantly animal/human portraits and landscapes – including, most recently, hand painted furniture. You can see his work on Instagram Radicalrhymes1969 or on Twitter @RhymesRadical.
For commissions, please contact him on Twitter via Direct Message or by email at: radicalrhymes@outlook.com His work is also available to buy on Etsy
Contact the Feature Writers