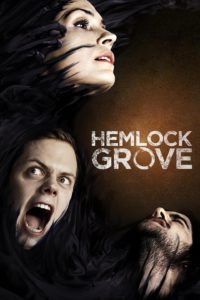 By Janet Grace
Hemlock Grove is one heck of a cluster fuck show. A Canadian Production, based on Horror/Thriller book: "Hemlock Grove" by Brian McGreevy, which I'll have to read, at some point.
The synopsis of the story is basically about two new friends with much and nothing in common, who team up to solve horrific murders in their Pennsylvania hood, where the middle class has completely been wiped out leaving solely the sinfully poor and the mega wealthy.
It's creepy, suspenseful, and keeps you guessing. The story unfolds one thread at a time with nothing ever being as one is led to believe. That was the kick in the tochus.
The main character, Peter's, background is of Gypsy Descent. The townsfolk are not very welcoming of their poverty or different ways. It's Gypsy Lives Matter in this show.
Peter is the new kid; who meets the suave, rich kid; Roman; whose beloved sister, Shelly, a giant of a sweetheart with a rare deformity, is as sweet as pie and clearly misunderstood.
Peter's Mom, Lynda, is the cool parental figure in Peter's life. On the flip side, there's the wealthy and beautiful; but deviously narcissistic, Olivia, sadly, Roman's mom. Destiny, is Peter's Psychic Cousin. Dr. Norman, is Roman and Shelly's Strange Uncle. Letha, is Norman's daughter, and the two siblings' cousin. Everyone's got secrets and someone's a killer, but who? One by one, the story and those secrets come tumbling out, s-l-o-w-l-y (side eye) unfolding with each episode.
Loving everything Angelic; Vampiric; Werewolf; Frankenstein, Zombie, batshit stuff you don't see every day, I ate it up. If you're one who enjoys watching all of this — not terribly horrifying, but definitely captivating, Then, this show is for you!
Enter the strange, mystifying world of Hemlock Grove.
Ratings are as follows: IMDb gives it 7.1/10; Rotten Tomatoes rated it as a 38%, audience gives it a 63%. Ì rated it an 8/10. It kept me hooked in.
The Main Cast are:
Famke Janssen – Olivia Godfrey
Bill Skarsgård – Roman Godfrey
Landon Liboiron – Peter Rumancek
Dougray Scott – Dr. Norman Godfrey
Madeleine Martin – Shelly Godfrey
Joel De La Fuente – Dr. Jonathan Pryce
Tiio Horn – Destina Rumancek
Penelope. Mitchell- Letha Godfrey
Lily Taylor – Lynda Rumancek
Executive Producers:
Eli Roth
Brian McGreevy
Lee Shipman
Mark Verheiden
Deran Sarafian
Eric Newman
Michael Connelly
"That's All, Folks!"
Enjoy your family time.
Sending love and misses,
JG )O(
Contact the Feature Writers