Ringside Report Takes a Closer Look at Undefeated Stephen McKenna – Boxing News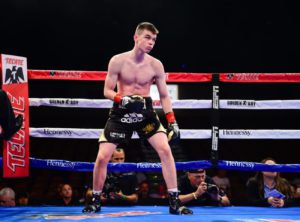 By Donald "Braveheart" Stewart
The island of Ireland cerates a lot of things – passion is key amongst them. There are very few who look across to The Emerald Isle, The Celtic Tiger without a tear in their eye and a skip in their heartbeat. Politically it offers an enticing mysticism which manages to provide us with a background to all sorts of motions and emotions.
When a ten-fight professional novice captures that spirit then you tend to take notice. Stephen McKenna, 10-0, 9 KOs, does exactly that. The light welterweight prospect has 9 knockouts in his first 10 fights! He has an eye catching and exciting style which has lit up the scene over here.
Even though his professional journey began, over there!
But many in the know, have hardly been surprised. McKenna is a product of a fantastic amateur career and his progression into the professional ranks was expected, whilst his success had a solid foundation and base. Of course, for some fighters, the amateur code gave them their start and their beginnings. Many, however, skipped past that and instead of coming from a notable and much applauded system of finding young people, molding them and preparing them, launched from their streetwise nature into the ring and triumphed. It happens and many a fighter and boxer are none the worse for it.
But when a boxer has managed to hone their ring craft from an early age, to box and defend whilst learning to walk, talk and not get hit in the playground, that is where their muscle memories and instincts have been fine tuned. By the time that they have outgrown the amateurs – unless they are Cuban – then they are ready. Or at least we all think they are. In recent years in the UK some stellar fighters have been put on pedestals in the unpaid ranks only to find once there is cash at stake in the ring that they don't quite have that ring generalship when the scrap is less honorable.
But McKenna may be different.
As an amateur representing his country, McKenna won silver in 2015 in the European Youth Championships, in the same year was the Commonwealth Youth Gold Medalist and of course was Irish national champion in 2015 and then again in 2017 at light flyweight and bantamweight. It is believed that he fought nearly 180 times before turning professional with just over 20 losses. His feat was noticed. By Golden Boy and he signed a promotional deal with a team across the Atlantic.
In Pico Rivera on the 6th of April 2019, he made his professional debut and beat Trey Branch by first round knockout. It was some way to announce yourself on the scene. The journey was begun.
And what a journey, in such a short space of time
He fought another three times in 2019 with first round knockouts against Keasen Freeman on the 13th of June in Costa Mesa, then Kealoha Helm – knocked out in the 1st round for the trilogy – in August at the Gardens Casino in Hawaiian Gardens. His fourth professional contest took a little longer to finish – he knocked Gonzalo Dallera out in the 2nd on the 9th of November back at the Hawaiian Gardens!
2020, saw him come over to Europe and he fought Gary McGuire in South Kirby. It was a relatively low-key affair, so any attention was not down to the occasion, it was down to the fact that McKenna kept his remarkable progress going with yet another first round knockout. He was back out in 2020, twice in December with a stoppage win against MJ Hall in Redditch – second longest night of his pro career as he went to the 5th round – and then again in Redditch he stopped Des Newton in the 3rd round.
Keeping up the theme of three fight sin one year, 2021 has seen him in Coventry three times. In May he stopped Damian Haus in the 1st round, in September Moussa Gary got to the final bell in a 6 rounder but never won a round and in November Richmond Djarbeng was due to fight an 8 rounder. Never heard the first bell – knocked out!
And there are two of them! Stephen is following in brother Aaron's footsteps. Aaron was already a professional fighter before his brother made the transition and he, Aaron is the younger of the two, by two years!
But their development has in so many ways happened side by side. Stephen prepared for his move into the professionals by spending a year in preparation alongside his brother. They became sparring partners for a number of impressive dance partners – Stephen sparred with Jose Zepeda at Wild Card prior to his world title fight with Jose Ramirez. They both were in Maywood to spar with the Molina brothers, Oscar and Javier. Stevie took on the 2008 Olympian, Javier whilst Stevie has also shared a sparring ring with Vasiliy Lomachenko before he went in against Jose Pedraza.
Described by many who have seen him as "an exciting old-school boxer-puncher who comes forward and isn't afraid to mix it up with the best fighters in the world," McKenna is knocking opponents out, on the door of opportunity and anyone daft enough to stand in his way – that way looks like being something well worth watching in 2021 and beyond!
[si-contact-form form='2′]