"The Monkees" Michael Nesmith Dead at 78 – Entertainment News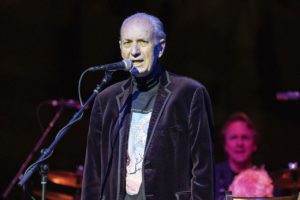 By Geoffrey Huchel
Songwriter, musician and singer Michael Nesmith, known as a member of the pop rock band "The Monkees", passed away December 10, 2021 of heart failure in Carmel Valley, California. He was 78.
Robert Michael Nesmith was born on December 30, 1942 in Houston, Texas. Nesmith's participation in chorus and drama in high school were a jumping off point for his future as a musician and entertainer. From 1965 to early 1970 he was a member of the pop rock band "The Monkees", created for the television comedy series of the same name. Nesmith left the group after he asked to be released from his contract, however he has taken part in several "Monkees" reunions over the years.
Nesmith co-starred with Davy Jones, Peter Tork and Mickey Dolenz on the television series "The Monkees" for the two seasons it was on the air. His additional film and TV credits include THE MONKEES: I'M A BELIEVER (1966), THE MONKEES: DAYDREAM BELIEVER (1967), HEAD (1968), REPO MAN (1984), HEY, HEY, IT'S THE MONKEES (1997) and PORTLANDIA (2011-2018).
Ringside Report sends our condolences to Michael Nesmith's family during their time of grief.
[si-contact-form form='2′]