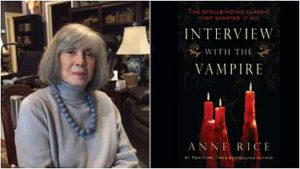 By Geoffrey Huchel
Anne Rice, the bestselling author of "Interview with the Vampire" and other gothic novels passed away December 11, 2021, of complications from a stroke. She was 80.
The New Orleans born novelist's famous vampire novel "Interview with the Vampire" published in 1976, was adapted into a film of the same name, starring Tom Cruise, Brad Pitt and Kirsten Dunst.
Rice's other works include "The Vampire Chronicles", "The Feast of All Saints", "Cry to Heaven", and "Queen of the Damned", which was also adapted into a feature film starring the late R&B singer Aaliyah. Rice's books have sold over 150 million copies, making her one of the most popular and best-selling authors of all-time.
Ringside Report send sour condolences to Anne Rice's family during their time of grief.
Contact the Feature Writers