Actress Sally Ann Howes Dies at 91- Entertainment News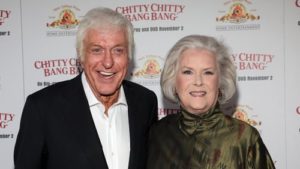 By Geoffrey Huchel
Actress and singer Sally Ann Howes, who starred in the musical film CHITTY CHITTY BANG BANG (1968) passed away December 19, 2021, peacefully in her sleep in Palm Beach Gardens, Florida. No cause of death has been revealed. Her career spanned six decades on stage, screen and television.
Howes was an acclaimed and successful stage performer whose credits include productions of "Paint Your Wagon", "Bet Your Life", "Camelot", "The Sound of Music", "The King & I", "Hamlet", "Cinderella", "My Fair Lady" and "Brigadoon", for which she received a Tony nomination for Best Lead Actress in a Musical.
Her film and TV credits include THURSDAY'S CHILD (1943), DEAD OF NIGHT (1945), ANNA KARENINA (1948), MISSION: IMPOSSIBLE (1966-1973), THE VIRGINAN (1962-1971), THE HOUND OF THE BASKERVILLES (1972), MARCUS WELBY, M.D. (1969-1976) and DEATH SHIP (1980). Howes will be best remembered for playing Truly Scrumptious, and co-starring opposite Dick Van Dyke in CHITTY CHITTY BANG BANG.
Ringside Report sends our condolences to Sally Ann Howes's family during their time of grief.
[si-contact-form form='2′]