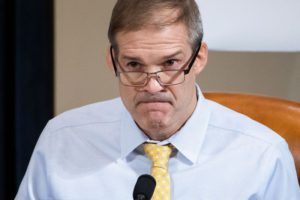 By Nikki Slusher
Christmas is arriving early this year, and it's delivering some of the top wishes on everyone's lists. Following a week of massive revelations regarding the Jan. 6th Capitol Riot, the committee is now showing this week that things are just starting to heat up — bigly.
After recent reports of the committee's request to speak with Rep. Scott Perry (R-PA), who as of Wednesday evening declined their interview, it seems they are also adding a few other names to that list; and Rep. Jim Jordan (R-OH) is next up.
Breaking reports on Wednesday confirmed that the special panel wants to interview with the Trump-loving congressman. Even better news is that they've requested for his text messages with Donald Trump. Their request includes any communication with anyone who was involved in trying to prevent the electoral college certification of now President Biden to keep Trump in the Oval Office.
The committee's letter was made public where it asks for Jordan's "voluntary cooperation" in their investigation to the events that happened earlier this year. Rep. Jordan's office has yet to release a public statement addressing the commission's request.
It's no surprise that there's a lot of interest focusing in on Jordan. Last week's revelations included a doctored text the congressman sent to former Trump Chief of Staff Mark Meadows where he laid out a plan on how to overturn the 2020 election results. Jordan hit the conservative media circuit immediately to complain about the text being "doctored" by Rep. Adam Schiff and other House Democrats; however, the un-doctored text shows Jordan's grammatical errors and was more embarrassing than what the special commission had leaked.
Although it's not required for someone to show up to Congress on a request, this does lead us down a path to those doors possibly opening. If a witness refuses to cooperate, like Jordan is expected to do, then he may face a similar fate as Steve Bannon, Mark Meadows, and ex-Justice Department official Jeffrey Clark.
It's the season of giving, and the Jan. 6th Committee is certainly doing a great job. With New Years right around the corner it would be interesting to know what Jordan's New Years resolution is going to be. It looks like him and a few of his fellow freedumb fighters are going to go through some things.
Contact the Feature Writers