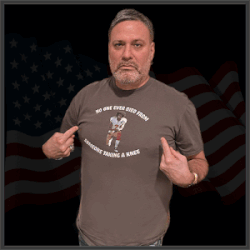 By Joyce Davis
One of my favorite movies is 10,000 B.C. One of the lines in the movie says "A good man draws a circle around himself and cares for those within – his woman, his children. Other men draw a larger circle and bring within their brothers and sisters. But some men have a great destiny. They must draw around themselves a circle that includes many, many more." "Bad" Brad has a great destiny. He doesn't just care for the people in his circle, he cares for those all around him.
My life has been forever changed because of Mr. Berkwitt. He did not send me a million dollars or buy me a brand-new home. He saw potential and he reached out to me to help me develop that potential.
I write this because my belief is that we all have this in ourselves. We all have the ability to touch someone's life and change it for the better. Sometimes it is little acts of kindness. It could be as simple as a smile to change the course of a person's day. "Bad" Brad talks a lot about moving humanity forward but he does not stop at talking. He uses every tool he has to make it happen.
Heroes don't go out into the world and say 'let me do something heroic'. They just go out into the world and see that something needs to be done and if it is in their power to do it, they do it.
I call on everyone who lays eyes on this article to bring out your inner "Bad" Brad. Be kind where you can be. Speak out when you have the voice to do so. Don't take no shit from the peanut gallery. This world needs people that will stand up wherever needed, when ever needed, or how ever needed.
Surround yourself with good, like-minded people that also want to help move humanity forward. He has the #BBBCrew. It is full of people that use their voice to make the world a better place. They all inspire me and I am sure that I am not the only person they inspire. They will stand up for anyone no matter who they are.
I am grateful that my path crossed with "Bad" Brad. I am grateful to know that there are people like him in the world.
Thank you, "Bad" Brad Berkwitt, for all you do in the world and thank you for what you have done for me. I will never ever forget it.
Thank you #BBBCrew for being so encouraging and inspiring to me. I appreciate you all.
Contact the Feature Writers