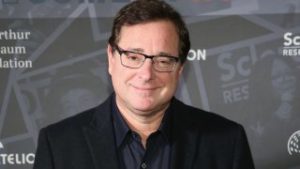 By Geoffrey Huchel
Actor and comedian Bob Saget, known for playing Danny Tanner on the hit television series FULL HOUSE (1987-1995) passed away January 9, 2022. Saget was found in a Ritz-Carlton hotel room in Orlando, Florida. There was no evidence of drug use or foul play. A cause of death has not been determined. He was 65.
Many of Saget's FULL HOUSE co-stars including John Stamos, Candace Cameron- Bure, Jodie Sweetin and Dave Coulier have paid tributes to their longtime friend and colleague.
Saget was the original host of AMERICA'S FUNNIEST HOME VIDEOS from 1989-1997. In 2016, Saget reprised his role of Danny Tanner on Netflix's FULLER HOUSE, a sequel series to FULL HOUSE, appearing as a recurring guest star throughout the series run. Audiences will also remember Saget as The Narrator on the hit series HOW I MET YOUR MOTHER (2005-2014).
Saget's additional credits include BOSOM BUDDIES (1980-1982), THE GREATEST AMERICAN HERO (1981-1983), QUANTUM LEAP (1989-1993), TO GRANDMOTHER'S HOUSE WE GO (1992), HALF BAKED (1998), NORM (1999-2001), MADAGASCAR (2005), ENTOURAGE (2004-2011), and SHAMELESS (2011-2021).
When news broke of Saget's death it was like a punch to my gut. Being a teen during the popular TGIF era, Bob Saget was a part of my childhood. He left us far too soon, but he will always be an old friend we can visit anytime we watch an episode of FULL HOUSE.
Ringside Report sends our condolences to Bob Saget's family during their time of grief.
Contact the Feature Writers