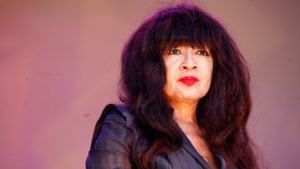 By Geoffrey Huchel
Singer Ronnie Spector, leader of the music group The Ronettes, passed away January 12, 2022, after a battle with cancer. She was 78.
Veronica Yvette Bennett, known as Ronnie Spector, was born August 10, 1943 in Manhattan, New York City. She formed the girl group the Ronettes in 1957 with her elder sister Estelle Bennett and their cousin Nedra Talley. She sang lead vocals on the Ronettes's list of hits including "Be My Baby" (1963), "Baby, I Love You" (1963), "The Best Part of Breakin' Up" (1964) and "Walking in the Rain" (1964). The Ronettes were voted the third-top singing group in England behind The Beatles and Rolling Stones. After a European concert tour and finding success in the music industry the Ronettes broke up in 1967.
Spector also had a career as a solo artist. She released 4 albums: "Siren" in 1980, "Unfinished Business" in 1987, "The Last of the Rockstars" in 2006 and "English Heart" in 2016.
In 1990, she published a memoir, "Baby My Baby: How I Survived Mascara, Miniskirts, and Madness, Or, My Life as a Fabulous Ronette". In 2007, she was inducted into the Rock and Roll Hall of Fame as a member of the Ronettes.
Ringside Report sends our condolences to Ronnie Spector's family during their time of grief.
Contact the Feature Writers