"Seinfeld" Actress Estelle Harris Dead at 93 – Entertainment News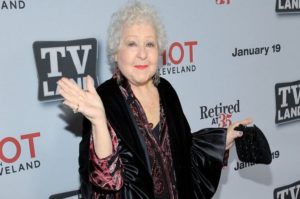 By Geoffrey Huchel
Actress Estelle Harris, known for her roles as Estelle Costanza on SEINFELD and as Mrs. Potato Head in the TOY STORY films, passed away April 2, 2022 of natural causes in Palm Desert, California. She was 93.
The Manhattan born actress began her career in the late 70s, appearing in commercials before moving on to TV and film, which included on-screen and voice over performances.
Harris famously guest-starred on SEINFELD (1989-1998) as George Costanza's mother, Estelle, appearing in 27 episodes of the series. She made her first appearance as Mrs. Potato Head in TOY STORY 2 (1999), and would continue to reprise the role for the franchise.
Harris's additional film and TV credits include ONCE UPON A TIME IN AMERICA (1984), NIGHT COURT (1984-1992), MARRIED…WITH CHILDREN (1987-1997), STAND AND DELIVER (1988), MAD ABOUT YOU (1992-2019), STAR TREK: VOYAGER (1995-2001), LIVING SINGLE (1993-1998), CHICAGO HOPE (1994-2000), CYBILL (1995-1998), OUT TO SEA (1997), SUNSET BEACH (1997-1999), MY GIANT (1998), ADDAMS FAMILY REUNION (1998), THE WILD THORNBERRYS (1998-2004), SABRINA THE TEENAGE WITCH (1996-2003), BROTHER BEAR (2003), KIM POSSIBLE (2002-2007), TARZAN 2: THE LEGEND BEGINS (2005), ER (1994-2006), THE SUITE LIFE OF ZACK AND CODY (2005-2008), TOY STORY 3 (2010), FUTURAMA (1999-2003), and TOY STORY 4 (2019).
Ringside Report sends our condolences to Estelle Harris' family during their time of grief.