Ringside Report Looks Back at Former Champion Enzo Maccarinelli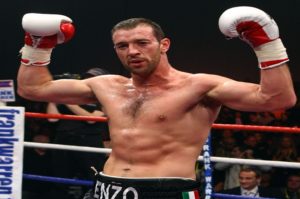 By Donald "Braveheart" Stewart
In a land where there are more Jones, Williams, Evans and Davies than anywhere else in the world, it is Wales's connection to Italy which brings not only its greatest ever fighter in Joe Calzaghe, arguably Wales's best ever boxer trainer and father, in the enigmatic Enzo and one other major talent who was a World Champion. Big Mac, Enzo Maccarinelli 41-8, 33 KOs, was to scale the similar heights to Joe, and his time as a world champion at cruiserweight was long enough to alert us to a very special boxer with an admirable record.
Professionally active from 1999 to 2016, he was the WBO cruiserweight champion for 2 years and held both British and European honors at cruiser as well as having been the light heavyweight Commonwealth champion.
Like Calzaghe, whose father also trained Maccarinelli, Enzo's father had a connection to boxing. Whilst Joe's dad became a boxing coach to support his son, Enzo's dad, Mario, had been a boxing champion in the Italian Army. Once emigrated to Wales he took over an amateur boxing club with his son rising from his cot to begin training alongside him; by the age of ten the younger Maccarinelli was in the ring fighting competitively.
Though such early influences can often lead to greater discipline, the teenage Enzo became a young man with young men around him and it was the persistence of his father, apparently, that brought him back to heel and to find pleasure in a punch bag rather than the teenage ones now on every street corner. Once out of school, he tried his hand at bricklaying until a breeze block fell on his hand fracturing a bone in it!
Once he had decided to go professional, it was time for him to sever his training links with his dad and that he did. His father and Enzo hired professional trainer, Charlie Pearson and the pro journey was now on its way.
His debut came on the 2nd of October 1999 when he beat Paul Bonson on points in Cardiff. Things looked good until fight 4 in Swansea when he was beaten by the southpaw, Lee Swaby. In a live televised fight, Swaby beat the raw professional Maccarinelli, by stoppage in the third round. It was quite literally a sobering experience. It taught him that if Maccarinelli wanted a career in the profession, then he needed to sort out his lifestyle.
So, he did.
By 2003, that change was providing him with a world title opportunity and on the 28th of June 2003, he took on Bruce Scott for the vacant WBU cruiserweight crown in Cardiff. It was a tense affair and Maccarinelli was clearly nervous as he hit the deck in the 1st round but rose and stopped Scott in the 4th. He was now a world champion, albeit of a lesser belt. A successful defense against Andrej Karsten in Newport in a 1st round stoppage heightened the hype around him and he was voted the British Boxing Writer's Club young fighter of the year (2003). In all, Maccarinelli made seven defenses of his title before he vacated it in 2006.
On the 8th of July 2006, Maccarinelli took on Marcelo Fabian Dominguez for the interim WBO cruiserweight title, once more in Cardiff. The full title was in the hands of Johnny Nelson. Nelson was struggling with injuries at the time so a follow-on fight for the full title for the winner would have been the obvious next step but that was never to be. Maccarinelli won the interim belt by stopping Dominguez in the 9th, Nelson then retired as he suffered a serious knee injury and that meant that Maccarinelli was now a legitimate world title holder.
Defenses followed where he was dominant including against Mark Hobson – 1st round stoppage in Manchester, Bobby Gunn – 1st round stoppage in Cardiff, Wayne Braithwaite – wide points win in Cardiff, and Mohamed Azzaoui – 4th round stoppage in Cardiff.
Then came David Haye.
Haye was the WBA (Super)/WBC champion and the unification, an all-British affair was too good to miss. Maccarinelli was the heavy favorite to punch away the irritant of the new upstart, Haye. Begun in the early hours of March the 9th 200, thus showing in the US on March the 8th, to satisfy American television schedules, at the 02 Arena, London, Haye delivered his trademark Hayemaker in the 2nd round and the title Maccarinelli had won and defended so imperiously was gone.
Haye was the unified champion, but he announced after that fight that he was moving up to heavyweight. The WBO belt, Maccarinelli's belt, was now vacant.
Maccarinelli wanted it back.
Chasing a fight against the next in line to fight for it, Jonathon Banks for the opportunity to reclaim the belt became farcical so he ended up in the Manchester MEN Arena, on the 14th of March 2009, against Ola Afolabi for the vacant interim title. Once again Maccarinelli was the heavy-handed favorite. Once again it did not go to plan as Maccarinelli struggled, before in the 9th, Afolabi sent him to the canvas and the referee waved the fight off.
His return was another defeat. 18th of July 2009, against Denis Lebedev back in the Manchester MEN Arena, for the vacant WBO intercontinental belt, with Lebedev managing to accurately punch Maccarinelli's right eye shut by round 2 and then finish the fight in round 3. The time had come to retire.
But you know what boxers are like…
On the 5th of December in Newcastle, he knocked out Krisztian Jaksi in the 1st, and then in Liverpool beat Zoltan Czekus who he knocked out in the 1st round too.
On the 27th of April 2010, he travelled to St. Petersburg in Russia for the European title against Alexander Kotlobay. For the 3rd time he got a 1st round victory – he was now the European champion.
It was not to last.
Alexander Frenkel came to Birmingham and on the 18th of September 2010, knocked Maccarinelli clean out in the 7th round after a very heavy knockdown from a counter left hook which was followed by another which stopped the contest with half a minute remaining in the round. The time had come to retire.
But you know what boxers are like…
The working back to reasonable shape in the division came when he beat Shane McPhilbin on points in Wolverhampton on the 23rd of March 2012 for the British title. It has a bizarre first round, cut short by 47 seconds when the bell was rung too early. Maccarinelli had already been floored!
2012 was to prove tough as Maccarinelli was then banned for six months after texting positive for methylhexanamine. After serving that suspension Maccarinelli, in November that year, faced Ovill McKenzie in Liverpool for the light heavyweight Commonwealth title. Maccarinelli took the decision on his return to move down in weight to light heavyweight and return to Enzo Calzaghe. Calzaghe had been in his corner when he was winning at cruiserweight, so it made sense at the new weight to get back to basics…
McKenzie was a tough operator and much feared by those who knew. McKenzie stopped Maccarinelli in the 2nd round in a controversial stoppage which the referee – Ian John-Lewis – apologized for. McKenzie offered a rematch.
But revenge was to follow.
On the 17th of August 2013, in Cardiff he beat McKenzie, stopping him in the 11th round despite being cut.
At his new weight opportunity followed when he travelled to Rostock to face Jurgen Brahmer for the WBA light heavyweight title. Maccarinelli was attempting to become a two-weight world champion. Maccarinelli found making weight tough, but it was a head clash that saw his right eye close up by the end of round two and he as to retire by round five.
He came back to cruiserweight.
He went back to Russia.
In a bizarre twist he took on a 46-year-old Roy Jones Jr in Moscow, knocking out the former pound for pound best fighter in the world in the 4th round at the VTB Arena in Mosco on the 12th of December 2015. It led to another bizarre encounter when in June 2016 he faced Dmytro Kucher for the vacant European cruiserweight title. McKenzie was due to fight for it, but injury forced him out. Maccarinelli was due to commentate on the fight for Box Nation but now he as in the ring to face Kucher! It was a 1st round stoppage but this time it was Maccarinelli who was stopped. The time had come to retire.
But you know what boxers are like…
Except this time, Maccarinelli announced his retirement on Twitter "Sorry guys felt OK in there then got tagged absolutely devastated I had to end my career like that."
In 2021, Maccarinelli suggested that his hunger for the sport was still there, and he planned to make his return. Now 40 and 5 years out of the ring what could possibly tempt him? He responded with the following on Twitter, "Appreciate concern by some about me fighting again, really falling on deaf ears. It's something I want, something I need. Rather try and fail than not give it an absolute go. I feel good, I'm sparring good, I'm healthy and I don't want even more regrets than I have already."
It is not the time to come out of retirement.
But you know what boxers are like…