Bellator MMA 280: Bader Vs Kongo 2 – Breaking UFC News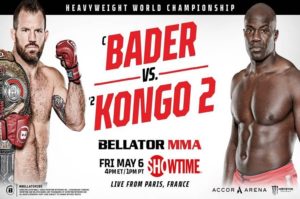 With another historic event in Paris, France just days away, fighters from BELLATOR MMA 280: Bader vs. Kongo 2 spoke to the media today before their slated fights on Friday, May 6 at the Accor Arena. The main card will air live in the US on SHOWTIME from 4 p.m. ET. The preliminary card will stream live at 1 p.m. ET on the BELLATOR MMA YouTube channel, SHOWTIME Sports YouTube channel and Pluto TV.
A heavyweight world title bout will headline Friday's card, with Ryan Bader (29-7, 1 NC) and hometown hero Cheick Kongo (31-11-2, 1 NC) set for a rematch following a controversial fight in 2019 which ended in an unfortunate no contest. In the co-main event, MMA legend Yoel Romero (13-6) faces No. 7-ranked Alex Polizzi (10-1) in a short-notice light heavyweight contest.
Tickets for BELLATOR 280 are on sale and can be purchased through Bellator.com.
Here's what the BELLATOR 280 fighters had to say:
RYAN BADER: BELLATOR HEAVYWEIGHT WORLD CHAMPION (VIDEO)
"We're both veterans and had a tonne of fights. For me, I've been jumping around at light heavyweight, but I'm back at home at heavyweight. I had a tough fight last fight, but it felt amazing. I fought in October, January and now May, so for me when the fights are like that, it's a lot easier to get into a routine and keep the momentum going. I feel ready."
"I'm excited. I haven't fought oversees for a while, so to fight in France… I was all over it. I have fought the last two fights in my hometown, which I don't think is always the best thing. There's a lot of pressure that comes with that. I'd rather be the guy coming into another guy's hometown and bringing an upset."
"I've had three rematches in my career and won all three. I was all for fighting Kongo. I like rematches because you never know how strong and fast a guy is until you get in there with him and you can gameplan from there. I've been undefeated in rematches and hope to keep that streak going."
"The animosity came from him [Kongo] and his team calling me a dirty fighter. He said he had me where he wanted me, so for me there's definitely more animosity now. But at the same time, I'm going to go in and do my job like I always do and that's it. I just want to get in there and have a clean, decisive win and be done with that whole chapter."
CHEICK KONGO: NO.2-RANKED BELLATOR HEAVYWEIGHT (VIDEO)
"It will be great for the French people to have the belt at home and claim France is a really good country for MMA. The supporters and fighters in France used to live for those moments, so for me it's a normality and a great opportunity to show the world we're still in the game. We are here now – let's do this."
"I was expecting the fight [against Bader] to happen really quickly, but it has taken almost three years. I had to keep going no matter what. We have the crowd and we have no excuses – showing how great BELLATOR Paris is, that's one of the big motivations for Friday."
"I don't have anything against him. Now I can be here and express myself. I have nothing to prove, I just try to do the work that I'm used to. I leave the trash talking and bad blood to one side."
"I used to get some frustrations and disappointments, but as a human being, I have to keep my head up and keep going no matter what. Every time I look at myself in the mirror and think about who I am, I'm really proud."
YOEL ROMERO: BELLATOR LIGHT HEAVYWEIGHT (VIDEO)
"Alex has decent, basic wrestling. He's had good results with it but luckily our gameplan this whole camp was to wrestle, so I'm ready for whatever he tries to throw at me. What I do know is that on Friday night my hand will be raised. I thank him for getting this fight last-minute, but if he is not ready for this fight it is possible, in the first round, I'll get him out of there."
"After the Phil Davis fight, me and my team have been getting ready with fire, dedication and everything we have for anyone that steps in front of us. For me, every fight is equally important. It's just adding one more victory to my career."
"I'm happy to call BELLATOR my home. Seeing how intense my training sessions are motivates me to continue competing. Even at my age I'm not slowing down."
ALEX POLIZZI: NO. 7-RANKED BELLATOR LIGHT HEAVYWEIGHT (VIDEO)
"I've said before that I don't like to do a lot of research on my opponents, but to not know Yoel Romero is sticking your head under a rock. I was really excited. My manager initially came to me and said they're looking for a fill-in for Paris. We're not sure of the opponent yet, but after a few more texts they revealed that it was Yoel. It's a short chance opportunity that I know some people have been saying 'why is he taking that?' Yoel Romero. In Paris. How do you pass that up?"
"I'm really excited to be facing an opponent like Yoel Romero, who has a great pedigree. If my opponent is a wrestler, it makes me excited because he is not going to move away and we can get to the fun part right away."
"I'm not real big on watching my opponents, I'm here to fight my fight. I do know of his pedigree because everyone knows Yoel, but that is not something that's going to go away. Yoel has been in the game for a while and people know his style: a big heavy hitter and a great wrestler."
"Whilst he's been keeping an inhuman amount of athleticism to stay in the game as long as he has, I'm going to be trying to work on him and wear down that gas tank, make him really feel my pressure on him and I'm just going to wear and tear on him until an opportunity presents itself to maybe look for a submission or an opening to finish the fight."
"Mixed martial arts isn't a sport where we have a set schedule. We fight based on when we're getting a fight and when the promotion calls. Ultimately, it's up to fans liking and enjoying the matches that we put on. I think after my last fight I got a lot of positive feedback on my performance and I think BELLATOR saw that. I'm excited to be in Paris and put on a fight for the fans."
BELLATOR 280: BADER VS. KONGO 2 MAIN CARD:
SHOWTIME (U.S.) | RMC SPORT (FRANCE) | BBC Three & BBC iPlayer (U.K.) | Virgin Media Two & Virgin Media Sport (IRELAND)
Friday, May 6, 10 p.m. CEST/9 p.m. GMT/4 p.m. ET/1 p.m. PT
Heavyweight World Title Main Event: C-Ryan Bader (29-7, 1 NC) vs. #2-Cheick Kongo (31-11-2, 1 NC)
Light Heavyweight Co-Main Event: Yoel Romero (13-6) vs. #7-Alex Polizzi (10-1)
Lightweight Bout: Davy Gallon (20-7-2) vs. Benjamin Brander (13-8)
Middleweight Bout: #6-Lorenz Larkin (23-7) vs. Kyle Stewart (15-5)
Middleweight Bout: Mike Shipman (14-3) vs. Gregory Babene (21-11)
BELLATOR 280: BADER VS. KONGO 2 PRELIMINARY CARD:
BELLATOR MMA YouTube channel | SHOWTIME Sports YouTube channel | BBC iPlayer (U.K.) | Pluto TV
7 p.m. CEST/6 p.m. BST/1 p.m. ET/10 a.m. PT
Featherweight Bout: Pedro Carvalho (12-5) vs. Piotr Niedzielski (16-4)
Welterweight Bout: Lewis Long (19-6) vs. Thibault Gouti (15-5)
Featherweight Bout: Fabacary Diatta (8-0) vs. Jordan Barton (6-2-1)
160-lb Contract Weight Bout Søren Bak (15-1) vs. Charlie Leary (17-12-1)
Lightweight Bout: Yves Landu (16-9) vs. Gavin Hughes (10-2)
Flyweight Bout: Lucie Bertaud (3-3) vs. Katarzyna Sadura (5-4)
Middleweight Bout: Youcef Ouabbas (2-0) vs. Matthieu Duclos (2-1)
Welterweight Bout: Victor Verchere (5-1) vs. Bourama Camara (4-1)
*Card subject to change.