Oscar Winner Louise Fletcher Dies at 88 – Entertainment News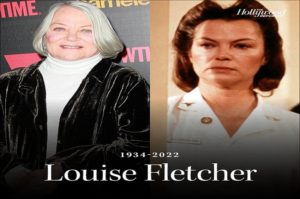 By Geoffrey Huchel
Actress Louise Fletcher, known for her Oscar winning role as Nurse Ratched in ONE FLEW OVER THE CUCKOO'S NEST (1976), passed away September 23, 2022 in France. Fletcher died peacefully in her sleep surrounded by her family and friends. No cause of death was given. She was 88.
Fletcher starred opposite acting legend Jack Nicholson in ONE FLEW OVER THE CUCKOO'S NEST. Her performance as Nurse Ratched put her among an elite group of the greatest villains in film history. Fletcher was known for playing another famous villain- Grandmother, in the film FLOWERS IN THE ATTIC (1987), based on the novel of the same name.
Her additional film and TV credits include WAGON TRAIN (1957-1965), PERRY MASON (1957-1966), RUSSIAN ROULETTE (1975), EXORCIST II: THE HERETIC (1977), FIRESTARTER (1984), THE BOY WHO COULD FLY (1986), THE TWILIGHT ZONE (1985-1989), BLUE STEEL (1990), PICKET FENCES (1992-1996), 2 DAYS IN THE VALLEY (1996), THE PRACTICE (1997-2004), CRUEL INTENTIONS (1999), THE DEVIL'S ARITHMETIC (1999), A MAP OF THE WORLD (1999), ER (1994-2009), A DENNIS THE MENACE CHRISTMAS (2006), HEROES (2006-2010), SHAMELESS (2011-2021), and A PERFECT MAN (2013).
Ringside Report sends our condolences to Louise Fletcher's family during their time of grief.