Ringside Remembers Boxer Terry Spinks (1938 – 2022)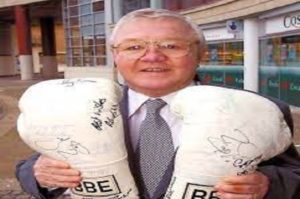 By Donald "Braveheart" Stewart
London, England 1938. The war was less than a year away. In West Ham Mrs. Spinks was celebrating the arrival of The Golden Boy on the 28th of February of that year. I suppose all of us parents would say that about our sons, but for Mrs. Spinks, Terry Spinks 41-7-1, 13 KOs, was to go on and became "The Golden Boy" in the ring. A professional featherweight, Spinks was to have a wide-ranging career which would see him have 56 professional fights and provide Mrs. Spinks' mantelpiece with an Olympic flyweight gold medal from the 1956 Summer Olympiad in Melbourne and the British title which he won in 1960.
To top it all off he was awarded the MBE – Member of the British Empire – by the late Queen for services to boxing. She would have been one proud mother. Though, like much of his career, this unassuming pugilist was to depend upon the campaigning zeal of others for his recognition – on this occasion his cousin Rosemary Ellmore. It was recognition, well deserved and 17 years after the other British boxing gold medalist, Dick McTaggart had got his!
West Ham, in the east end of London, was not a place into which you were born automatically with expectations. like many 1930's working class areas it had its poverty but was also a place riddled with decency, honesty and the type of values people moan today have gone missing. Back then they didn't need billboards to spread their messages.
As an amateur Spinks managed around 200 fights, the pinnacle of which was to become the 1956 ABA national flyweight champion. Having survived the Second World War, post war Britain was bleak. The black and white grainy footage of the time shows austerity at every pixel. Spinks would have had few expectations aside from hoping to show a career from his efforts would provide for his family, once he got out of the amateurs and for him, there was plenty of promise.
But by the time he turned over he had already made history. In the amateurs of the time, unlike today, there was not an Academy of Excellence or sponsorship to the level we have now. It was really hard graft. But it paid off for Spinks who worked as a garbage man before becoming the youngest British athlete to win an Olympic gold medal. And it wasn't easy.
In Melbourne he beat 5 good boxers – Samuel Harris (Pakistan), Abel Laudonio (Argentina), Vladimir Stolnikov (Soviet Union), Renee Libeer (France) and Mircea Dobrescu (Romania) – to win gold. Five fights to win the bauble. He was just 18 years old! In fact, originally, he was rejected from going because it was thought he was too young and too inexperienced! It took a campaign through the media with boxing legendary commentator and writer, Reg Gutteridge, which successfully got him on the plane to glory. He had had a week to prepare – not even enough time to get nervous!
Once home with that bauble, it was less than a year before he turned professional, making his ring debut at Haringey Arena on the 9th of April 1957 when he stopped Jim Loughrey, after suffering a cut eye in 4th round.
By the 27th of September 1960, he was at the iconic Royal Albert Hall where he was fighting for the British featherweight title. In the 7th round, cuts again played a part as his opponent, Bobby Neil was stopped due to them. There was a rematch, on the 22nd of November 1960, at the Empire Pool, Wembley. This time, Spinks knocked out Neil in the 14th round. He had fought Bobby Neil before, on the 2nd of June 1960 at the Empire Pool in Wembley and lost – stopped in the 9th round of a scheduled 10. The original fight for the British title came after beating Johnny Kidd on the 26th of January 1960in a British title eliminator. It was the 2nd time that Spinks had fought an eliminator – he had been beaten on points by John O'Brien on the 15th of September 1959 at the Empire Pool Wembley.
Mrs. Spinks would not have got the Lonsdale Belt for keeps for her mantelpiece, as Spinks then lost his belt when on the 2nd of May 1961 he was stopped in the 10th round by Howard Winstone when defending his title.
Though he kept fighting, he never faced anyone in the ring for a title again, though his career with boxing did not come to an end – nor his association with the Olympics. Retiring after facing Johnny Mantle on the 11th of December in 1962 at the Royal Albert Hall, he retired at the very young age of only 24 years of age. Making weight was the issue. The reasons behind it may have been to do with the problems that were probably, by now gripping him tighter – alcoholism.
he became the coach of the South Korean team at the 1972 Munich Olympics. It was there that he was one of the witnesses of the Black September massacre of the Israeli Olympians, in fact, it was Spinks who raised the alarm.
After boxing, he started drinking heavily, living rough apparently and then, his cousin, the same one who campaigned for his MBE – Rosemary Ellmore – took pity on him and housed him, along with her husband, Terry. He stayed in Chadwell Heath, London until his death on the 26th of April 2012.
His funeral saw the East End boxing fraternity join with the rest of the country as over 200 former boxers, including former opponents attended. Widely reported, long-time friend, author and sports historian Norman Giller said in his eulogy: "Terry hung up his gloves in 1962 but we have never hung up our memories of one of the most accomplished fighters to come out of the East End boxing factory."
Youngest ever boxing gold medalist for his country, national champion in the amateur and professional codes and someone who raised the alert at the most infamous episode in Olympic history. Hard to wipe any of that out of our memories.