Former Miami GOP Congressman David Rivera Arrested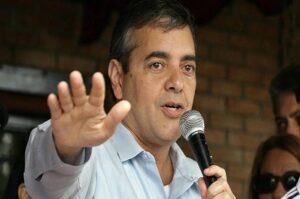 By Nikki Slusher
Marco Rubio's longtime former "enforcer" has been indicted over a $50 million contract with the Venezuelan government. Former Miami Republican Rep. David Rivera had previously avoided "a host of state and federal criminal indictments." A spokesperson for the U.S. Attorney's Office in Miami confirmed Rivera's arrest in a statement on Tuesday.
According to NBC Miami's report, the former congressman was arrested for his connection to the ongoing federal criminal investigation while in the Atlanta airport. A grand jury handed down the indictment last month, per spokesperson Marlene Rodriguez. Mr. Rivera was released on bail Monday afternoon.
Rivera's arrest was only a matter of time after it was revealed that the contract with President Nicolas Maduro was an attempt to gain favor with former President Donald Trump in the early days of the Trump administration. "Rivera's Interamerican Consulting was sued in 2020 by PDV USA — a Delaware-based affiliate of Venezuelan-owned Citgo — alleging the former congressman performed no work as part of the contract he signed in 2017 for three months of 'strategic consulting' meant to build bridges with key U.S. stakeholders," stated NBC Miami.
Mr. Rivera had escaped a plethora of federal and state criminal charges prior to his arrest. He was also extremely close to Republican Sen. Marco Rubio, who Rivera acted as an enforcer for and co-owned a home with the senator. Trump targeted Rivera in a 2016 ad that attacked Sen. Rubio.
The court's have been showing over the last two weeks that when you f*ck around, you will ultimately find out. We can now add another GOP name to the growing "indicted Republicans" list.
Click Here to Order Boxing Interviews Of A Lifetime By "Bad" Brad Berkwitt