Kevin McCarthy Fails To Secure House Speaker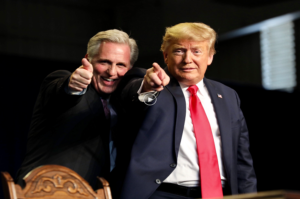 By Nikki Slusher
Rep. Kevin McCarthy (R-CA) was confident he would secure enough votes to win a comeback term as Speaker of the House. McCarthy even moved into the Speaker's office before Congress assembled to vote. After three votes, however, it seems that McCarthy's dreams of being speaker are dwindling.
On Tuesday the House voted not once, not twice, but three times to see who would take over the gavel from Nancy Pelosi. Kevin McCarthy was unable to receive the 218 votes needed after three floor votes. As of Tuesday afternoon, one question still lingers — who the hell is going to be the next speaker?
Currently, there are 20 House Republicans who voted against McCarthy and instead supported Rep. Andy Biggs (R-AZ) and Rep. Jim Jordan (R-OH). Fellow Freedumb Caucus member Rep. Lauren Boebert (Idiot-CO) warned her fellow anti-McCarthy voters during the morning conference "If you vote against Kevin McCarthy today on the floor you will not have committee assignments."
Ironically, Democratic House Leader Rep. Hakeem Jeffries has maintained the highest number of votes for the speakership. House Democrats made it very clear that they will not help McCarthy or any other Republican get enough votes for speaker either. The issue is that the delay means no one can be sworn in, an agenda for the upcoming Congress cannot be made, and basically unless Republicans decide to go all in on one candidate then DC is on hold indefinitely.
While it may take eight years for Donald Trump to lose the popular vote three times, it appears that Kevin McCarthy was able to achieve that in one day. By the end of the day, McCarthy apparently moved his stuff back out of the speaker's office. If this is a predictor of what's to come during the newly GOP majority Congress then it's safe to say they aren't going to get anything done and will just hurt themselves in 2024.
Click Here to Order Boxing Interviews Of A Lifetime By "Bad" Brad Berkwitt