Ringside Report's Fight Report of Recent Results and Upcoming Bouts Around The World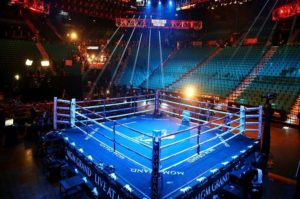 By Donald "Braveheart" Stewart
As easy as 1, 2, 3 or A, B, C here we have what happened, what is about to happen and what is due to happen in the boxing world from the perspective of a fan with a laptop, in the heart of Scotland. Three fights, all being talked about and talked up and not all for obvious reasons.
Flash Back – Ringside Report's Rear View Mirror – one fight from the week past from a Scottish angle (Look it up on a map…)
UK – biggest and most notable – what should be the biggest news in the UK boxing scene.
Around the world the biggest fights may well have been just like when the youngest got less than the eldest from Santa and they opened their presents from underneath the Christmas tree, but we are now ready to restart the boxing with a cracking January …
Fast Forward – the week to come as viewed from one side of the Atlantic
UK – biggest and most notable – what should be the biggest news in the UK boxing scene
Saturday 21st January 2023
In Manchester, Chris Eubank Jr faces Liam Smith.
Families.
After the Christmas period, don't you fancy seeing the back of them? Well, you can't, not if you are the son of a legend or the brother of three fighters… And when these two meet in the ring on Saturday night, one family should leave with their pride intact and the other may leave with their tails very firmly between their legs. It may only be January, but we have an absolute domestic cracker in the UK with Junior talking on Liam.
'
For Chris Eubank Jr this is a risk. All his talk of only needing 50% of his capacity against Liverpudlian Smith and wearing a KFC jacket to press conferences because he has been eating fried chicken but still making weight is show business. The real business in the ring is a risky affair. After his fight with Connor Benn got pulled, Eubank Jr very cleverly put himself in the shop window for all comers in a fight ripe to take advantage of the attention. The risk is that if he loses, he loses to a man who competes at a lower weight and his status amongst middleweights might just suffer.
For Liam Smith, coming up in weight whilst being well ranked amongst the bigger world title bodies, at the weight division below middleweight is less of a risk. As the smaller man, he will be expected to lose so this looks less of a risk for him. He also has a few significant fights under his belt including sharing the ring with Canelo and Jessie Vargas. But he is also a proud man who wants to ensure his rise, and return to world title level, is managed with some degree of certainty. The risk here is, if he ends up being seriously beaten, some at world level in his division shall see him as easy pickings, offer him a title fight which he will lose and the dream ends.
My View
I have never been a huge Eubank fan – of either Senior or Junior, however that needs to be put aside as this looks like a tough ask for Smith. In terms of the fights, he has entertained and undertaken, Smith has a better resume, but Eubank is a really good boxer. He has the smarts and the punch ratio to win this on points, but what he lacks, according to many who have faced him, is power.
Smith comes from a boxing family where there shall be no lack of advice. Callum, Stephen and Paul have all been there and done that before, but this has a different ring to it. If there was ever a fight that would be a struggle for a Smith, it might be this one. It has caught the imagination of the public and whilst I hardly think it is a natural sell out – nor an obvious PPI choice, despite the fact that it is on PPV – this is one that is already on fire before and during the fight. At the final press conference both boxers had to apologize for suggestions of one being unfaithful to their wife and the other being accused of lacking female companionship – in a homophobic manner. It was ugly and unfortunate, at best, and at worst simply disgusting.
I want Smith to win but believe that Eubank Jr will use this as a platform to go on for world honors whilst Smith can lose and still compete at world level at super welterweight.
It makes this a curio rather than a must win contest and perhaps feels more like a throw back to when fighters at an elite level would take a fight not in the world title mix to keep active. And so, I think Eubank Jr might shade this but I still would love to see a Smith win as I think he is the better pugilist…
Future History – and the week to follow…
UK – biggest and most notable – what should be the biggest news in the UK boxing scene
Saturday 28th January
In Wembley, BT Sport have light heavyweight Anthony Yarde in against Artur Beterbiev for the IBF, WBA and WBO titles.
Click Here to Order Boxing Interviews Of A Lifetime By "Bad" Brad Berkwitt