American Politics Runs in The Blood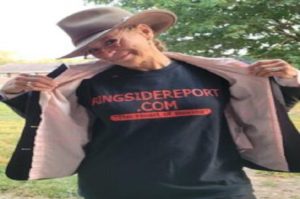 By Janet Grace
I watch, listen, read everything there is on the news, papers, web, streets. I sometimes have to take a break and care for my sanity — just for a moment, but I've been on the planet since The Flamingos crooned "I Only Have Eyes For You". I've watched much take place. It's ALWAYS been like this, just not out loud.
I was born with my antennas tuned to everything that was going on in the world. My parents were very involved in politics. My Dad had to stop Mom from joining the Panthers marching downstairs on a weekly basis because "the girls need their mother and you're going to the pokey. I know you". She was a spit fire, Mom was, and given they appeared to be a mixed-race couple, they endured white folks spitting to the side of them, if their paths crossed on our walk home FROM CHURCH.
My Dad used to laugh till he cried telling my Tio Berto about having to walk arm in arm with my mother to keep her from fighting white folks in the street.
One fair skinned, light eyed and my momma, dark eyed, dark skinned with chutzpah to boot, getting into scrapes when called "black bitch, monkey nigger" and her least favorite, "Where'd you get that white baby from?"
Yeah, she got into it, alright; put the carriage brake on, and slap a bitch. There she goes! Daddy to the rescue.
I saw President John F. Kennedy, jerk twice before slumping to the left onto Jacqui's shoulder on Nov 22, 1963. We were preparing for my big sister's 9th birthday party. There was no party.
I watched as Black Panthers marched underneath our windows going straight up Amsterdam Avenue, passed Grant's Housing, where we lived, before turning right and continuing up 125th street to Lenox Ave, every week without fail. Tupac's Momma, Alfeni, was always right up in front until she; along with twenty other members of the Panther 21, were charged and jailed, blamed for a heinous crime committed by guess who? Cops. They were acquitted and cleared in 1971.
My Dad didn't survive the 60's, unfortunately. He died of natural causes, trying to better our lives, working more than his heart could handle. I had no one to share the news with. He used to tell me about everything he was reading, teaching his very curious "Annie Oakley", his nickname for me, to always have one ear to the ground and both eyes on the world.
I heard about Dr. Martin Luther King, JR. being shot soon after it happened. You could cut the fear in our building, mostly Black, Spanish-speaking, and Russian folks, afraid for what would happen to us.
I saw a picture of President Johnson signing the Civil Rights Act in the Daily News less than a year after JFK was assassinated.
I was seven when John's little brother, Robert, decided to run for president.
Oh, man.
Harlem was hopping. What a buzz. What excitement. He began his campaign in March against Johnson. Johnson, knowing the outcome, decided not to run against him. That left two chuckle heads that would've gone nowhere given the legend of Camelot was still on everyone's minds.
In June, less than three months into the campaign, RFK won the primary. That's as far he got. He was assassinated hours later by Sirhan Sirhan, an idiot who did not like that Bobby, as he was known, stood up for Israel. His assassin was of Palestinian descent. FYI, he would've won the presidency hands down.
I watched Governor George Wallace spewing his racist rhetoric before and after being shot which left him in a wheel chair, paralyzed from the waist down. That disgusting Democrat continued to run and fail. That's how much he detested Blacks. He wanted us segregated and kicked to the curb.
That hatred which is seen now, has never stopped existing. Even the whites knew he was too much of a hater to do anything good for America.
Given, "God don't like ugly", something bit him. He became a born again Christian and asked the world for forgiveness. He bit, chewed and swallowed all of the venom he'd previously lashed out, before being slapped upside the head by the Holy Spirit.
Ask me about Watergate, Ford, Carter, The Old Gipper, etc. I've seen tons, folks, yet the mockery happening in the House of Representatives today, takes the cake and smashes it on all of us.
O Mentiroso (Portuguese for The Liar) had a serious Twitter Cat Fight with a For-Real Drag Queen, Miss Trixie Mattel, which O Asquerozo (Portuguese for disgusting) lost big time, and ironically, for one knowing nothing about the Drag World, he sure knows the lingo as if he had written it. I wouldn't be surprised if he took credit for that, too.
There are heroes amongst us, still. Hakeem Jeffries has a set on him in calling out McCarthy's plans to lay our good congress people by the way side. Adam, Eric and Ilhan SHALL represent us. I don't think McCarthy has taken into account that the Democratic Party has a NEW Black Panther.
Schumer has found his own chutzpah and bless Bernie! Spit out that Starbucks and hit up the Bustello for coffee that doesn't taste like burned poop.
Ya gonna need it. We're here, some queer and damned right proud of it.
Shout out to @TrixieMattel.
Click Here to Order Boxing Interviews Of A Lifetime By "Bad" Brad Berkwitt