Ringside Report's Fight Report of Recent Results and Upcoming Bouts Around The World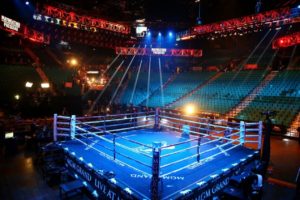 By Donald "Braveheart" Stewart
As easy as 1, 2, 3 or A, B, C here we have what happened, what is about to happen and what is due to happen in the boxing world from the perspective of a fan with a laptop, in the heart of Scotland. Three fights, all being talked about and talked up and not all for obvious reasons.
Flash Back – Ringside Report's Rear View Mirror – one fight from the week past from a Scottish angle (Look it up on a map…)
UK – biggest and most notable – what should be the biggest news in the UK boxing scene.
Saturday 4th February
In Madison Square Gardens, featherweight Amanda Serrano broke more records against Erika Cruz Hernandez for the IBF, IBO, WBC, WBA and WBO titles by winning on points, whilst super featherweight Alycia Baumgardner also won on points against Elhem Mekhaled for the IBF, IBO, WBC, WBA and WBO titles!
Before we get to the big news of a rematch there was the simple task of a boxing match that saw Amanda Serrano show once again why it is she is a legend. People may have had their minds on her nest steps, but she firmly had hers on a very combative and game Erika Cruz Hernandez.
The tale of the tape shall show that this was one sided according to the scorecards but it was anything but. Hernandez pushed and pushed but could not find her way through an imperious fighter who, even after a long time in the game, looks the part of a massive champion.
The start of the fight saw Hernandez pushing but as Serrano settled into her rhythm you could see the experience really beginning to tell and it was no surprise the way that it ended. Cut by an accidental head clash in the third round, Hernandez bravely boxed on and even opened up a cut on Serrano later on. By the sixth, when Hernandez got buzzed and hurt, there was very little doubt who would come out with the win, but it continued to be two very able fighters trading blow by blow right up until the final bell – a massively entertaining fight for the fans.
And so, despite being a seven weight world champion, this was the first time she had won all four belts in any division.
My View
In the other title fight, super featherweights Alicia Baumgardner put Elhem Mekhaled of France down three times before taking the decision. As it turned out, the Serrano/Hernandez fight was the one to watch as it turned crimson red with effort and blood, however Baumgardner also made a very bold statement of intent here too.
And so, the politics of boxing, never something to utterly shock, showed its ability once more to do just that. Serrano's team have announced that it is only fair that Serrano come to Dublin to fight Katie Taylor given that Taylor fought the first time in Serrano's hometown of New York – can you imagine that happening in the men's game?
There is also a lot of politicking around where in Dublin the fight shall take place, with Conor MacGregor joining the party to try and get it outdoors at Croke Park; there is already an arena deal in place for it in May.
Serrano looked a tough prospect and the question of when that engine of hers is going to slow down after so many battles starts to rise but gets answered each and every time. She has made history time and again but then again it could be argued that the 2012 Olympic gold medalist, Taylor has too.
This is a rematch for the age we are in. For Baumgardner, she joined in by suggesting she would want to face the winner of that rematch but there may be a significant queue for the winner to choose from.
But a word for Hernandez. This was not a beating and the wide decision against her would suggest she was outclassed – she was not. Perhaps, a bit of refinement and she could return to become a world champion again. Mekhaled may be a different prospect as she did look a little out of her depth but the women's game needs people to come up to world level and whilst Mekhaled might not be the full package right now, she could contribute hugely to the development of the sport.
Overall, though, a decent night's entertainment. – just what boxing always needs!
Fast Forward – the week to come as viewed from one side of the Atlantic
UK – biggest and most notable – what should be the biggest news in the UK boxing scene.
Saturday 11th February
In Texas we have the WBC super featherweight title fight between Rey Vargas and O'Shaque Foster, but I shall be keeping one eye on Cardiff, where the British and Commonwealth bantamweight title fight is between Sean McGoldrick and Scott Allen.
Rey Vargas goes into this one as the favorite as he attempts to win a world title in a third weight division. The vacant WBC super featherweight title is on the line and Vargas – 7-time national champion, winner of the WBC super-bantamweight title in 2017, when he beat the UK's Gavin McDonnell and then the WBC featherweight title in July last year when he beat Mark Magsayo, he is unbeaten and looks difficult to see past.
Vargas had wanted Leo Santa Cruz for the WBA title at super featherweight, to be opposite him, but in the boxing business, as we know as fans, you do not always get what you want! O'Shaque Foster arrived on the scene quietly and last year – March, nearly a year ago – he beat Muhammadkhuja Yaqubov on points for the WBC silver title to earn a shot. Though he has losses on his professional record, unlike the unbeaten Vargas, he has earned his shot.
My View
By the time you read this my old mate, Scott Allen should be crowned the British and Commonwealth champion at bantamweight, as he faces Sean McGoldrick in Cardiff. That is exercising my mind BUT the super featherweight WBC title fight is more than a decent contest. It has not made news over here in the way that it may have done so in the States but it has managed to catch my eye not just because there is very little on anywhere else!
And so, it deserves the attention as these are two guys – one with an impeccable record facing a guy with a couple of blips on his record. It is a perfect backstory for what ought to be a decent contest.
However, the thinking and prevailing view is – Vargas takes this with some ease. Except of all of his opponents there is a narrative building that Foster may well be THE guy who will beat him.
Let's wait and see, as fans know – you don't always get what you want in this game!
Future History – and the week to follow…
UK – biggest and most notable – what should be the biggest news in the UK boxing scene
Saturday 18th February
At the Nottingham Arena, making his comeback to the ring is the WBA featherweight champion, Leigh Wood facing Mauricio Lara in his hometown of Nottingham.
Click Here to Order Boxing Interviews Of A Lifetime By "Bad" Brad Berkwitt