Raquel Welch Dies at 82 – Entertainment News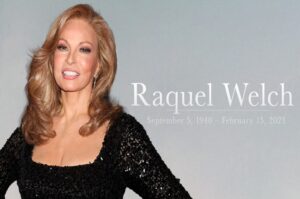 By Geoffrey Huchel
Golden Globe winning actress and legendary bombshell Raquel Welch, known for her role in the sci-fi film FANASTIC VOYAGE (1966), passed away February 15, 2023, in Los Angeles, California, after a brief illness. She was 82.
Welch was born Jo Raquel Welch on September 5, 1940, in Chicago, Illinois. Her career began in the 1960s, being cast in small roles in the films A HOUSE IS NOT A HOME (1964) and ROUSTABOUT (1964) and was soon cast on several television series such as BEWITCHED (1964-1972), MCHALE'S NAVY (1962-1966), and THE VIRGINIAN (1962-1971), ultimately leading up to an impressive and successful career that has spanned over 5 decades. Welch's stunning beauty has not only graced the silver screen, it also had made Welch a 1960s international sex symbol.
Her additional filmography includes ONE MILLION YEARS B.C. (1966), BEDAZZLED (1967), BANDOLERO (1968), THE THREE MUSKETEERS (1973), MORK & MINDY (1978-1982), RIGHT TO DIE (1987), TROUBLE IN PARADISE (1989), SABRINA THE TEENAGE WITCH (1996-2003), SEINFELD (1989-1998), LEGALLY BLONDE (2001), AMERICAN FAMILY (2002-2004), CSI: MIAMI (2002-2012), and HOUSE OF VERSACE (2013).
Ringside Report sends our condolences to Raquel Welch's family during their time of grief.
Click Here to Order Boxing Interviews Of A Lifetime By "Bad" Brad Berkwitt