Actor & Comedian Richard Belzer Dies at 78 – Entertainment News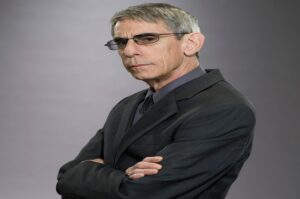 By Geoffrey Huchel
Richard Belzer, who played Detective John Munch across multiple NBC crime dramas including LAW & ORDER (1990-) and HOMICIDE: LIFE ON THE STRRET (1993-1999), passed away February 19, 2023, at his home in Paris, France. No immediate cause of death was given. He was 78.
Belzer was a stand-up comedian in New York City, working at The Improv and Catch a Rising Star and was the audience warm-up comedian for SATURDAY NIGHT LIVE (1975-) and made three guest appearances on the show between 1975 and 1980.
Known more for his TV and film appearances, Belzer's filmography includes FAME (1980), NIGHT SHIFT (1982), NOT NECESSARILY THE NEWS (1982-1990), SCARFACE (1983), MOONLIGHTING (1985-1989), MIAMI VICE (1984-1989), THE BIG PICTURE (1989), FLETCH LIVES (1989), THE BONFIRE OF THE VANITIES (1990), THE FLASH (1990-1991), LOIS & CLARK: THE NEW ADVENTURES OF SUPERMAN (1993-1997), NORTH (1994), A VERY BRADY SEQUEL (1996), MAD ABOUT YOU (1992-2019), MAN ON THE MOON (1999), ARRESTED DEVELOPMENT (2003-2019), 30 ROCK ( 2006-2013), UNBREAKABLE KIMMY SCHMIDT (2015-2020), and AMERICAN DAD (2005-).
Ringside Report sends our condolences to Richard Belzer's family during their time of grief.
Click Here to Order Boxing Interviews Of A Lifetime By "Bad" Brad Berkwitt