Ringside Report's Fight Report of Recent Results and Upcoming Bouts Around The World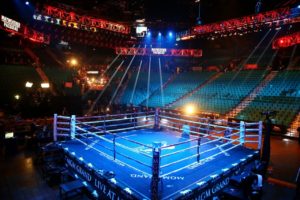 By Donald "Braveheart" Stewart
As easy as 1, 2, 3 or A, B, C here we have what happened, what is about to happen and what is due to happen in the boxing world from the perspective of a fan with a laptop, in the heart of Scotland. Three fights, all being talked about and talked up and not all for obvious reasons.
Flash Back – Ringside Report's Rear View Mirror – one fight from the week past from a Scottish angle (Look it up on a map…)
UK – biggest and most notable – what should be the biggest news in the UK boxing scene.
Saturday 18th February
At the Nottingham Arena, for the WBA featherweight championship,
Leigh Wood L Mauricio Lara KO7
WBA champion, Leigh Wood lost his belt with what we all thought might happen, hoped would not happen and hardly were surprised when it did happen – he got caught with a devastating blow in the 7th round and got knocked spark out.
Up until then he had been well in front, schooled Mauricio Lara in various rounds and Lara himself was looking like he might run out of steam. But what his fists did not run out of was raw power as he cracked Wood beautifully with a left hook and left him flailing on the canvass.
The major controversy that has followed is the question over Ben Davidson, Wood's trainer, throwing in the towel with a few seconds of the 7th round left. Wood has recovered before and people were screaming that he should have been allowed to do so again. But Lara is a vicious finisher.
My View
Firstly, and for the avoidance of any doubt: Ben Davidson did the right thing. In the cliché of whether you should prioritize health over wealth, this is an occasion where getting your guy out of there to regroup and fight another day was far more important than allowing Lara to beat him up more than he had. Wood was concussed. We don't allow soccer players or rugby players to continue with a concussion, and they don't have people hitting them on the head as regularly as in boxing. Wood was also seriously hurt.
Lara has now been to the UK three times, beaten and drawn with Josh Warrington and has now won the WBA belt here. People think he is taking the mickey – none more so than the IBO world champion, Jazza Dickens – the only English fighter with a world title – who fancies a shot at taking the WBO belt.
This was a very dangerous fight, and a voluntary defense, and now Warrington can try and get the fight with Lara to set his record straight. Wood has a rematch clause and will also fancy it – and so he should. This was a tremendous performance for almost 7 rounds and Wood showed how much of an elite fighter he is. He can beat Lara, Warrington may perhaps hunt for another belt, and we get a unification battle in the UK thereafter? But first someone has to beat Mauricio Lara, and that does not look an easy thing to do when he can hit like that!
Fast Forward – the week to come as viewed from one side of the Atlantic
UK – biggest and most notable – what should be the biggest news in the UK boxing scene.
Sunday 26th February 2023
In Diriyah, Saudi Arabia, there is the WBC cruiserweight title on the line between champion, Ilunga Junior Makabu and the veteran challenger, Badou Jack.
There is plenty of hype in the Middle East this weekend around Jake Paul fighting Tommy Fury but, on the undercard, there is a genuine world title fight. Makabu has not fought since early 2022, with Jack a name we recognize from a different time – it is however the green belt which Makabu holds so there is plenty of interest in who comes out triumphant for the cruiserweight division.
At 37 years of age, and with a fairly checkered win rate in the cruiserweights, few are picking Jack, and this might be quite a simple win for the Congolese fighter.
My View
Of all the world champions at this weight Makabu is probably the lowest hanging fruit. The fact that he faces a fading Jack, who, at light heavyweight was a supreme boxer, is more about finding a place to fight than a legacy which shall be left. It is an underwhelming fight.
Most believe that Makabu will get through it, but some promoter somewhere has to pick him up and get the belts unified. This is not the way we should be looking at world titles and Makabu, though he won this title on merit should have bigger and better fights – the other champions are Arsen Goulamirian, Jai Opetaia and the UK's Lawrence Okolie. Surely, they would be open to unification for the winner?
Future History – and the week to follow…
UK – biggest and most notable – what should be the biggest news in the UK boxing scene
Saturday 4th March
In Newcastle, England there is a super lightweight contest for no belts but plenty of intrigue between local boy, Lewis Ritson and southerner Ohara Davies.
Click Here to Order Boxing Interviews Of A Lifetime By "Bad" Brad Berkwitt