Politics & Religion: A Closer Look…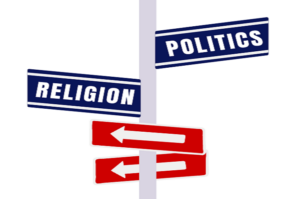 By Donald "Braveheart" Stewart
As I sit in my Kailyard I often wonder about the future.
Of Kirk and State…
Over here, we believe that over there is governed by what is called, the Bible Belt. The central geographical area of America which has more churches in it than sense is what we think…
There is also a widely held belief that nobody will occupy the White House unless they happen to attend a church on a regular basis, and they firmly believe in God. If only there were more who practiced their faith than preached it…
We are far more pluralistic in the United Kingdom. Right now, we have a Hindi Prime Minister and in Scotland, we are debating who shall become the new First Minister. IF the Pakistani heritage Muslim in the race wins and we go on to have independence from the UK, it has not been lost on people that the partition of Britain would be negotiated by a Prime Minister of Indian descent with a First Minister of Pakistani descent when, in 1947, the British oversaw the partition of India and Pakistan.
But that Muslim candidate still has to win the race to become the leader of the Scottish National Party (SNP). Winning the leadership election would see them becoming First Minister of Scotland, as the SNP is the biggest party in parliament. He faces two other candidates. One is way behind in the polls and looks unlikely to win whilst the other is a member of the Free Church of Scotland. As a devout Christian she does not believe in abortion, giving birth outside of wedlock and same sex marriage. She was asked and she confirmed that these are her views.
It led to several people calling for her to withdraw from the contest as her views are out of step with what the rest of the SNP, and Scotland, think and feel. But is it?
Inside the SNP, there are quite a few who do not buy into the liberal nature of the Scottish Government over the last few years. The move from oil to renewable energy and the attendant need for greener policies has polarized people. Within the communities of Scotland, there are also many who have not bought into the positive transgender debate either. They are conservative socially with a small c and they have watched as the debate has raged – literally. It has been an unpleasant discussion on both sides at times.
I too, as a child went to a Free Church Kirk. It taught me absolutely nothing at all and any of the lessons at Sunday School or from the pulpit have left no indelible mark upon me. This included when I turned from God and became an atheist; it was not down to the thunder, guts and glory that came from my Sunday attendance.
By the time I got to University I was completely unaware of any form of diversity – Chinese meant food and black faces were white people in make up on the television. I was not shocked by coming across people who were Jewish or of a different color to me. Sexuality was something I had also never considered but it was soon something I would know very well. At Glasgow University, in the eighties, it was a hot topic and many people with whom I shared a debate or two in the Student Union were not openly gay until they grew out of the prejudice of the times and now are openly living honestly.
But you had an idea.
It never bothered me and when I find many of my own children part of the LGBTQ+ community, I am glad for that ambivalence, which later became a campaigning streak when I realized that the ambivalence was simply wrong. But I was glad I was not making amends for copying the nonsense I witnessed.
Scotland has moved. Not enough. But socially it has moved.
If we elect as a leader of one of our parties someone who believes as this candidate does, it shall point in the wrong direction. In my humble view. Of course, she is right to stand for election. I can breathe easily being in the same party as her – I am primarily a democrat.
But to be in a party led by someone whose beliefs would deny my own children the same rights as their peers. To be in a part who believes that my children and my stepchildren have been born wrongly, because they were out of wedlock, and that women should not have the right to terminations…
It is several lines in the sand and over which I cannot cross.
As a member of the SNP, I have a vote. I shall be voting Muslim. Not because of any religious affiliation or because I want to turn my back on something, but because irrespective of their or my religious beliefs, their views are closer to mine than the other two. Socially he is as liberal as I am. Imagine that. He is a devout Muslim and prays to Allah. I am not religious and pray to nobody but we have come to the same or similar points of view. Magic that…
My worry, though, is that, not for the first time, I may be in the minority… Here's hoping I am not…
A view from the new Kailyard or, how you look over there, from over here…
(Kailyard n. a cabbage patch, often attached to a school of writing – the Kailyard School – a genre of overly sentimental and sweet Scottish literature from the late 19th century where sentimental and nostalgic tales are told in escapist tales of fantasy, but here we seek to reverse it by making the Kailyard Observations of effective invective comment from that looks not to return to the past but to launch us into a better future by the one Donald worth believing…
Kirk – Usually the Protestant Church in the community but is generally used to describe any Christian church.
Click Here to Order Boxing Interviews Of A Lifetime By "Bad" Brad Berkwitt