Ringside Report Looks Back at Boxer Dave Anderson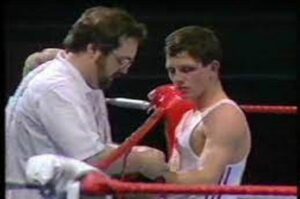 By Donald "Braveheart" Stewart
Right now, British boxing is somewhere between an Easter egg scandal and the pinnacle of its power. For those of us who have followed boxing from an early age, albeit for some of that time intermittently, the current level of popularity, focus and debate is a golden time. To have promoters like Eddie Hearn and Frank Warren up there with the best in the world is an incredible distance from decades ago. To have had not one but two British heavyweight world champions, at the same time, is a heady mix.
Nowhere is it more obvious that British boxing is doing well than at the Olympic Games. Our last Olympics, 2020, was the most successful in a century. A century.
30 years ago, it was not so healthy. In fact, it was far from a golden period. In the 1988 Seoul Olympics, of the five boxers we took, only one, Richie Woodall, medaled with a bronze. The team – Mark Epton (light flyweight) won one fight and was then out in the second round, John Lyon (flyweight) fell at the first hurdle, as did Henry Akinwande (superheavyweight) though he got a first round bye so his time in the ring was extended longer than Lyon's. Of the other two, Woodhall got to the semifinals and Dave Anderson (featherweight), 18-1, 7 KOs, held on to the third round.
Having beaten the Argentinian Domingo Damigella, Anderson then beat Paul Fitzgerald of Ireland before falling to Reglio Tuur of the Netherlands, just short of a medal. Of his opponents, Damigella was to go on and box three times professionally for a world title (WBO, WBU and WPC), whilst Tuur became a world champion professionally with the WBO. The Olympics was perhaps disappointing for Anderson, a Scottish amateur who was the Amateur Boxing Association (ABA) featherweight champion from the Bellahouston Boys Club in the west coast of Scotland.
Glaswegian, Anderson, did not immediately turn professional after coming back from the Olympics like many do now. In 1989 he went to Athens to represent Scotland in the European championships, winning bronze at lightweight. He was the only Scot to medal, in fact he was the only British boxer to medal.
Then in 1990, he went to Auckland, once more, to represent Scotland and won a bronze medal at the Commonwealth Games. He was not alone this time in securing a medal for Scotland as Charles Kane won gold at light welterweight. British boxers did reasonably well with two other golds – including Richie Woodhall – and another bronze.
But the dawn of a new era as hardly upon us as Britain once again went to the Summer Olympics and for the third Olympiad in a row, only managed a bronze medal – this time thanks to Robin Reid (light middleweight).
In 1990, on the 25th of September at the Hospitality Inn, with a 3rd round stoppage, win, his professional career began when he beat Junaido Musah. It was a short career and some 30 years later, there are fights that would have suggested a plodding career that was not to stun and excite us. Scottish boxing of the time, perhaps in the shadow of bigger promoters could be a tough pathway to negotiate. But amongst his first few fights is the 1991 fight with Ian Honeywood at Shawfield Park, a now defunct sports arena in the southside of Glasgow. Shawfield is a stone's throw away from Cathkin Park, another abandoned sports arena which housed world title fights for the famed Benny Lynch, back in the early part of the 20th century. Anderson, though, was never to reach such dizzying heights of fame or boxing recognition.
The most exotic it got was two fights in Wales and a visiting Spaniard, Carlos Pena beaten in an 8 round shut out in 1995. 4 years into his professional career he was still fighting 8 rounders which was unusual.
The tail end of that year, 1995, Anderson was to fight for the very last time when he fought for the British title in Basildon on the 30th of September against Michael Ayers. Stopped in the 7th round by Ayers as he retired with an injured hand, Anderson never fought in a ring again. Ayers was to go on to become an IBO world title and is a Lonsdale belt holder – being beaten by him was far from a disgrace.
Anderson's career was one of promise at times, but one which never really got going professionally. However, Anderson is an Olympian with a Commonwealth medal in his locker. And that is more than worth celebrating.
Click Here to Order Boxing Interviews Of A Lifetime By "Bad" Brad Berkwitt