Boxing Trash Talk: When It Can Go Too Far…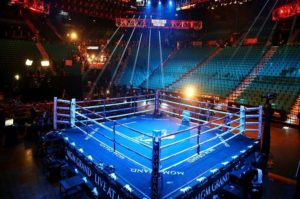 By Donald "Braveheart" Stewart
An opinion piece from the only Donald worth listening to…
Full Stop – In British English grammar a full stop is a lengthy pause, in the US, you call it a period. In the UK that tends to suggest feminine products. Here it means a period of time where
I look at something in boxing in a little more depth. I am typing from my perspective of a fan who watches the sport closely. It's an opinion. It is my opinion. Don't like it? There are other opinions out there but if you don't like it then good, debate and democracy are a good thing. If you do like it, feel free to spread the word.
Sensitive Souls
Recently some boxers have been getting tetchy over criticism. To be fair to them, there are always a few who like to go over the top, but sometimes it is neither the fighter nor the critics' – keyboard or otherwise – fault.
The media have a lot to answer for. Building fighters up can be partly their fault and partly the fault of someone behind the boxer promoting their greatness before it has ever been tested. It can lead some fighters to have a sense of themselves and their greatness long before they have the evidence to make their claims. It's chutzpah…
Of course, there are plenty who can mouth off. There are more than a few who start the circus by pronouncing themselves as the Greatest or a GWOAT. For a very few, they have something which they clearly can prove.
It's the fun and thrust, the hyperbole and the building of a sport that needs such funfair and fanfare to compete in a modern sporting market, so they say.
What could possibly go wrong?
Let me count those chickens…
You see it's far from rare that a fighter gets mismatched because they have been built up too far. There are a few whose ability is brought to a ring and found out because their prowess is not at the level of their mouth. Many get opportunities because they performed really well, and somebody has noted they may now be levels above the person they fought. And then they get put in against a tougher guy. And then the media can headline things like, them being "found out".
And how these guys love it.
There are some who love nothing better than pointing out the faults of a person who has got up early each morning and put in a superhuman shift before these so-called commentators have ever managed to surface from their beds – or mother's basement.
Trainers too can be guilty of over cooking their fighter as they try and maneuver them into the best position, be in the right place for the best deal or just be supportive of someone who could make it and has all the attributes of a decent fighter who could be great. It is very easy to see why fighters have their careers managed, that they are built up till they peak. If the promoter, manager, trainer and fighter get it right, then they get a world champion.
But it also breeds thin skin.
Hype around fights is one thing, over confidence is always good to see punctured but some fighters can also be oversensitive to criticism.
This weekend we had three world title fights in the United Kingdom on the same night. A disaster for boxing, according to some, given we have plenty of free dates with no championship boxing over the next month, but we had three world title fights on at the same time. Let's see how the three defeated fighters react. They are quite a bunch – a variety of pugilistic types.
First up Michael Conlan. This is the man who was robbed of an Olympic medal by dodgy judging. The image of him flipping the bird to the judges when the announcement of his loss came is now iconic. His rise in the professional ranks has been carefully hyped and it hit the skids when he was well up on scorecards against Leigh Wood for a world title when Wood knocked him out and out through the ropes in the 12th round. Had he not been caught by the hammer blow; he would have been world champion. It was not to be. He rebuilt and caught a world title fight in Belfast against a Mexican. Before the fight it was heralded as the easiest of pickings for Conlan. His corner threw in the towel when Conlan was being battered in the 5th round. Luis Alberto Lopez retained the IBF title he won from British fighter, Josh Warrington. It's the second time in May that Irish crowds have been stunned as Dublin already had to witness another former amateur star, Katie Taylor being beaten by Chantelle Cameron.
Then came news that WBO cruiserweight champion, Lawrence Okolie, who reacted badly to criticism of his last outing against David Light, had lost his WBO title on points. Okolie had gone to the south coast of England, to the hometown of his challenger, Bournemouth, and in a stadium fight, had been outpointed and dropped twice. His reaction was immediate and graceful – a lot humbler than the reaction in March when he was underwhelming against Light. The biggest question is whether his new trainer Sugarhill Steward shall survive being beaten by Okolie's former trainer – Shane McGuigan, who was in the new WBO champion, Chris Billam-Smith's corner.
Finally, Leigh Wood, wearing a sombrero his opponent had given him, after knocking him out with one of the sweetest shots ever – a shot from the Gods. At the time of the knockout, ironically, given how Wood had beaten Conlan, Wood was well up on the scorecards. Mauricio Lara produced his own shot from the boxing Gods to take the belt, Wood had so beautifully stolen from the scorecards of his performance against Conlan. In essence, Wood had done to him, what he had done to Conlan. The story of the week was that Lara lost the belt on the scales as he was unable to meet the stringent weight demands of the British Boxing Board of Control, put in place to protect fighters. Wood was punch perfect and a fight against Conlan which would have unified the WBA and IBF titles is now off.
But what shall Conlan do now? How shall Okolie react? Shall Lara disappear into the ether and never fight for a world title again? Each world title fight was on a different broadcaster's channel so how each reacts shall be fascinating – Okolie was a marquee signing for Sky/Boxxer, Conlan has the wight of expectation sitting right upon him and Lara a man who has literally come from nothing, is now with a few dollars more likely to look for further money making fights to feed his community. In boxing, things are never, ever, ever dull…
Click Here to Order Boxing Interviews Of A Lifetime By "Bad" Brad Berkwitt