Ringside Report Looks Back at Professional Boxer Lou Bizzarro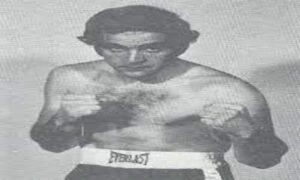 By Donald "Braveheart" Stewart
They do say that boxing runs in your blood and when it comes to Lou Bizzarro, 31-2, 9 KOs, that could be quite literally true, as he was one of no more than ten of his family who entered a ring. In fact, when he was inducted into the Philadelphia Hall of Fame, it was the day after he had watched his great nephew, Anthony Bizzarro win at Philadelphia's River Casino. Alongside him that night were such luminaries, with Philadelphian connections, two-time world champions including Bernard Hopkins and Michael Spinks as well as local boy Michael Moorer: exalted boxing royalty indeed.
His arrival into the professional game at home, in Erie, where he was born and brought up, on the 5th of November 1964. Facing another debutant in Herman Dunbar, Bizzarro won a four-round contest on points. His professional career continued for a number of years with wins throughout for many years. His trajectory was not a spectacular one and in 1975, it included sharing the headlines with horse races at the Commodore Downs Racing Track, in Erie, where he fought and beat Pablo Rodriguez as one of two fights happening in amongst horse races! A points win is a points win but someone somewhere must have thought what it was all for!
During his professional career, Bizzarro never won a world title, but he did fight for one: on the 23rd of May 1976. It was for the WBA lightweight belt, and the man in the opposite corner was ring legend, Roberto Duran. It was one of only two losses on his record, that Bizarro suffered in a career that stretched from that debut in 1964 all the way up to 1982. It may also be the one fight most would want to talk to him about.
Once again, Bizzarro had home advantage as the fight would be at County Field House in Erie. On a Don King promoted show, with Don Elbaum in his corner, an undefeated Bizzarro faced his 23rd professional opponent with hands of stone. Duran was 55-1. Duran was coming into his prime, Bizzarro had no noticeable names upon his record. Even after 56 fights, Duran was still not everyone's GOAT nominee.
That afternoon Bizzarro weaved and boxed and tried to avoid in a regulation 24 by 24 ring, a future hall of famer legend, but got caught in the 10th and 14th. Whilst Bizzarro moved and avoided Duran, Duran stalked and waited. Early on, Bizzarro had felt the champion's power declaring it "a bit much for me," So he had to avoid it but Duran, and everyone else knew, fights are marathons and eventually all that running catches up with you.
In the 10th, Bizzarro hit the canvas twice. But then, he came out in the 11th and gave Duran something to think about. Unfortunately, what he considered and worked out was how to stop Bizzarro and that came in then 14th when Bizzarro was floored a further twice and then stopped. A reported $15,000 richer for the experience, the fight was in the record books for all to see.
The ring from the fight ended up in Bizzarro's bar/restaurant where the 24 by 24 regulation ring that Duran's people had complained about could be measured and people assured that all was legal and above board. In fact, many years afterwards according to reporter Eric Bottjer in the Ring Magazine, Duran was to come to Erie and visit Bizarro's Ringside restaurant as Duran was managed by another Erie boxing guy in Mike Acri. Acri brought the two together and Duran was a fat and happy customer who got tipsy with his former foe telling him: "You were a good fighter." Of course, Bizzarro repaid the compliment and Duran, according to Bottjer fell off his seat in laughter.
Bizarro was to lose only one more time in his career, in 1981, when veteran Norman Goins knocked him out in the 7th round. Bizzarro eventually hung up his gloves after beating Robert Bo moody on points, once more in Erie on the 13th of February 1982. He obviously went into the catering trade after the boxing career and at 75 years young is still with us, though a night in his bar with that ring, other pieces of memorabilia and an Italian – he was born there – to sing or recount many stories, would be a treat true boxing fans should surely favor .
Click Here to Order Boxing Interviews Of A Lifetime By "Bad" Brad Berkwitt