Boxing Is Still Here Even If Not Remotely Close to The Golden Eras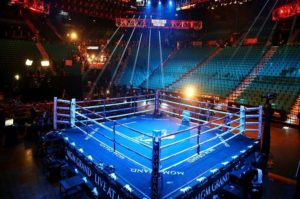 By Donald "Braveheart" Stewart
An opinion piece from the only Donald worth listening to…
Full Stop – In British English grammar a full stop is a lengthy pause, in the US, you call it a period. In the UK that tends to suggest feminine products. Here it means a period of time where
I look at something in boxing in a little more depth. I am typing from my perspective of a fan who watches the sport closely. It's an opinion. It is my opinion. Don't like it? There are other opinions out there but if you don't like it then good, debate and democracy are a good thing. If you do like it, feel free to spread the word.
What a state…
In the UK there has been a video posted ringside, of an impromptu conversation between Derrick Chisora, a former two times heavyweight titlist, former Olympic Gold medalist, Audley Harrison and former WBA world heavyweight champion David Haye. The question posed to them was, how bad is the current state of heavyweight boxing.
Their answer, collectively, was simple – it's in fine fettle.
I would not only agree but add that I think heavyweight boxing has not been in such rude health for some time.
Now old timers will look back at that point where there was Ali, Foreman, Wepner, Frazier, Norton Bonavena and so on… They may even go back to when Tyson and Lewis were at the tail end of their careers and the Klitschkos came in.
Aint nobody making a case for the dominance of the Klitschkos being a golden time, but to be fair to them, this is due to a lack of any real opposition. When it arrived, with Tyson Fury and Anthony Joshua, their reigns came to an end.
My reasoning behind why I think heavyweight boxing is healthy is fourfold.
Firstly, people are talking about it. You go and buy a newspaper or look at a mainstream media website and there it is. Tyson Fury has said this, AJ is ducking that, Deontay Wilder should be taking on this and Oleksandr Usyk is a master at everything. People are interested in what is happening who would normally not give a stuff about it. Journalists who were in the wilderness for many years, trying to scrape a living together from the scraps off the boxing table are suddenly in demand. People want them to opine on the subject matter because there is a demand from the people through the mainstream: and that aint fake news.
Secondly, it asks fundamental questions. As the sportswashing of the Arab world goes into overdrive, boxing is right at the heart of it all. IF the December showdowns that are planned – Usyk v Fury and Wilder v Joshua – happen, it will ask boxing as a sport to value money above the morality of propping up a regime that has no real right to claim a place at an equality table. Other sports – soccer and Formula 1 – have already been bought. But boxing, with its highlights and focus has greater sway, because it is a single event, and it should not be in the Middle East the way it is – in my opinion. But it is a focal talking point, which may see us all having to answer questions whilst the promoters, boxers, managers and ne'er do weels and hangers on make hay.
Thirdly, money. There is little doubt this is attached to the former point as the amount of cash swilling around the sport is eye watering. The difference from then to now is that most of it is now beginning to filter into the pockets of the boxers. It is, however, filled with inequality. There needs to be a better spread, better care taken of former boxers and more invested in the legacy of the sport than the legacy of individuals.
Finally, the one thing that matters most – we have four exceptional athletes in the sport of boxing at the very top of the heavyweight game. Anthony Joshua has power but a flawed mindset of recent fights. He needed to knock out Jermaine Franklin and failed. Questions have been asked and now they are being asked again. Deontay Wilder has exceptional power in his right hand. Wilder is a fan-friendly heavyweight. With the right promoter, that can bring in the fans – but he needs the right promoter. Tyson Fury, if he can shut up for long enough, is a master craftsman, a tactician with skill that belies his size. That's if he can keep his mouth shut for long enough to shut other people's mouths with his fists – he always needs a best friend, that can muzzle him. The greatest tactician of the four, the greatest boxer is the matrix with three of the four belts – Oleksandr Usyk. Usyk is the best of his generation, but only if he beats Tyson Fury. Fury is the best, but only if he beats Usyk and AJ. Wilder may look like he makes up the numbers, but his legacy was to go for so long and not get beat. Now, he can become the best if he beats all three, but nobody wants to see Fury/Wilder IV… yet.
And the level below has Britain's Dillian Whyte, Joe Joyce and Daniel Dubois, Mexico's Andy Ruiz Jr., New Zealand's Joseph Parker, Croatia's Filip Hrgovic, Sweden's Otto Wallin, China's Zhilei Zhang and the Congo's Martin Bakole – though he may be an honorary Scotsman. In the US there are a few kicking around to add to that list and that is where the heavyweight championship has been most treasured – the US. How can it not be, as golden eras have needed a contender from the US to make it a global phenomenon. But that has shifted as other countries pile into the rankings but for now it looks like Frank Sanchez or Jared Anderson are the most ranked by the bodies that matter.
Where it sits at the moment, however, is a crossroads. It does not matter one jot if there are great heavyweights, great fights to be made and plenty of money with which to make them. A golden era is defined by memory. Memory is only about facts. If the fights do not happen than we are left with what ifs and what could have beens. That is no golden age but a lost age. So, promoters and fighters need to make the fights…
And of course, that's so damn easy in in the boxing world…
Click Here to Order Boxing Interviews Of A Lifetime By "Bad" Brad Berkwitt