Singer Astrud Gilberto Dies at 83- Entertainment News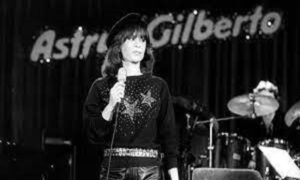 By Geoffrey Huchel
Singer Astrud Gilberto, who gained international attention following her recording of her song "The Girl from Ipanema", passed away June 5, 2023, in Philadelphia, Pennsylvania. The cause of death was not disclosed. She was 83.
Born on March 29, 1940 in Brazil, Gilberto emigrated to the United States in 1963 and resided in the U.S. from that time on. Gilberto's career began in the 1960s, and in 1964 the single she would be most known for "The Girl from Ipanema" earned her a Grammy Award for Song of the Year and a nomination for Best Vocal Performance by a Female. Throughout her decades-long career, Gilberto produced 16 studio albums and released 16 singles. She is also noted for editing her original recording of "Fly Me To the Moon" as a duet of the same song by Frank Sinatra for the soundtrack of DOWN WITH LOVE (2003).
Ringside Report sends our condolences to Astrud Gilberto's family during their time of grief.
Click Here to Order Boxing Interviews Of A Lifetime By "Bad" Brad Berkwitt