Ringside Report Remembers Former World Title Challenger Antwun "Kid Dynamite" Echols (1971-2023)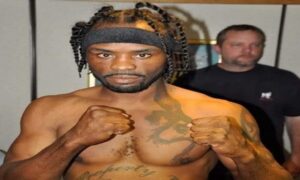 By Donald "Braveheart" Stewart
World middleweight contender, Antwun "Kid Dynamite" Echols, 32-23-4, 28 KOs, originally born in Memphis, Tennessee and latterly resident in Davenport, Iowa, has been taken to the big ring in the sky at a scandalously young age of 52. There are no official reasons though some have speculated and according to his daughter, Antwunette Echols, that it was down to complications with diabetes rather than any nefarious nonsense you would often see in the pages of many a social media site. Echols left this life on the 2nd of July 2023.
Most remembered as one of the contenders who faced Bernard Hopkins for his IBF belt, he was active between 1993 and 2015 – a very long and very active career, which included getting his boxing training in Iowa. His nickname, "Kid Dynamite" was all down to what was in his hands – fearsome punching power. But the fights with Hopkins, as always, tell part of a tale. His rise to those fights and his time at the center of the world stage was far more complex.
In fact, he began that professional journey with a loss in 1983 when he made his debut against Anthony Ivory in davenport on the 22nd of May. He was knocked out! What was not knocked out was his ambition and he went on a winning streak of over 20 fights, thereafter, showcasing his abilities with his fists.
On the 22nd of October 1994 at Davenport, he won the Iowa state middleweight title with a stoppage win over Joe Harris. Four years later in Baton Rouge he knocked out Brian Barbosa for the IBF USBA and NABF middleweight titles. He then defended successfully against Kevin Tilman in Cherokee on the 7th of April 1998, then he beat by stoppage – once again – Urbano Gurrola in Tunica on the 28th of July 1998 and he found himself in Tunica facing Roland Rangel and won with another stoppage.
There is little wonder that on the 12th of December 1999 he found himself opposite Bernard Hopkins for the IBF middleweight belt in Miami. In their first fight, Echols lost on points. In a closely fought contest Hopkins was just too good. The rematch came in Las Vegas on the 1st of December a year later. This time Echols was outclassed and stopped – the IBF title again eluded Echols. At the time of the first fight Echols had lost once – on his debut so truly earned his shot.
In between the two fights Echols managed to fit in beating Lionel Ortiz – who retired in the fight – for those IBF USBA and NABF middleweight titles.
His time at the top continued on the 19th of May 2001 with a fight against Charles Brewer in Uncasville for the NABF super middleweight title and stopped Brewer to collect the belt, which saw him recover from being sent to the canvass no fewer than three times in the 2nd round to getting up and stopping Brewer in the next round! Then in December of that year the NABF super middleweight title was won when an unbeaten Lawrence Chapman was disqualified in December in Temecula. In April 2002, Kabary Salem fought him for the NABF super middleweight title and Echols retained the belt quite unusually on points, then in June he stopped Oscar Bravo, and in August he faced Richard Grant for the same belt which served as an eliminator for the IBF belt. Another stoppage win for Echols led to another world title opportunity; but not for the IBF title.
Australian Anthony Mundine was next, in Sydney, where Echols fought Mundine for the WBA super middleweight title. Mundine beat him on points.
It was not the end for him, but it heralded a change. The next time he flew close to world title he lost to Kingsley Ikeke in another IBF eliminator on the 15th of April 2005 in Airway Heights. He fought on, notably managing to earn a split decision draw against Rubin Williams on the 12th of January 2007 for the IBA super middleweight belt. There was a long slow decline with his final 20 fights fought with only one win. His final fight came on the 30th of April 2016 when he lost predictably to Lamar Russ in Fayetteville.
Outside of the ring, Echols was clearly a man of some color in his life. Once asked about the number of children he had fathered, he hazarded a guess! That was some time after he had been shot in the leg whilst being a peace maker, in 2007 when trying to break up a fight. Of those quoted in his former trainer Leonard Overstreet Sr. was quoted in the Quad-City Times.
"He had the hardest punch. Antwun and I go way back. We were childhood friends. I started working with Antwun when he was an amateur at the Davenport Boxing Club. I worked with him, and once Antwun got himself together, he beat everybody in the gym."
Unfortunately, at an age that is desperately young the one fight he could not win was stacked heavily against him.
Click Here to Order Boxing Interviews Of A Lifetime By "Bad" Brad Berkwitt