The Game (Boxing) Is the Same and Not Afoot…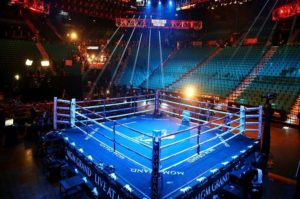 By Donald "Braveheart" Stewart
An opinion piece from the only Donald worth listening to…
Full Stop – In British English grammar a full stop is a lengthy pause, in the US, you call it a period. In the UK that tends to suggest feminine products. Here it means a period of time where I look at something in boxing in a little more depth. I am typing from my perspective of a fan who watches the sport closely. It's an opinion. It is my opinion. Don't like it? There are other opinions out there but if you don't like it then good, debate and democracy are a good thing. If you do like it, feel free to spread the word.
The game is the same and not afoot…
Tyson Fury shall, in the Middle East, fight a novice, no doubt for some kind of WBC belt. It won't be for the world title, but it shall be for something: of that we have little doubt. The WBC are pretty good at inventing things.
Boxing fans shall pay their money and buy the fight. Forget the noise around "true" boxing people calling it a sham and a circus, a money grab, a disgrace to the sport and all the rest. When all is said and done, boxing fans will shell out their hard-earned cash to watch. They may be doing so like a Barnum Circus Freak Show got your dimes and dollars, pounds and pennies and part you with them.
I shan't be watching.
That's not down to being upset with the event. I couldn't care less about it. I realize that it makes business sense and as for the people saying that Tyson Fury is a hypocrite, maybe he is. Name me a boxer who is not. Name me one who will not take the cash and secure his family's future in the modern game.
Boxing is a short and very dangerous career.
But…
The problem is that this fight exposes more than it lights up. Firstly Tyson Fury, darling of Mental Health Recovery suffers from poor mental health. During the last few months, he has taken to social media to berate, abuse and insult as many people as possible. The Gypsy King has delighted fans and used his presence online to suggest he wants the fights that everyone is ducking. AJ – I shall fight you if you sign by tonight. Usyk – I shall fight you if you agree to a split in my favor. Both AJ and Usyk have their own version of events, but there is something which is rotten here – the use of social media has its limits. Neither fight happened and neither fight is more likely to happen because of Fury being on any social media. The pressure on his opponents he is after is no longer there. British boxing journalist, Steve Bunce when he was recently in Dublin stuck a Twitter pic of a pint of Guinness in a Dublin pub. It got more views than the next Tyson Fury twitter post, which aired shortly afterwards. People are bored with Tyson Fury on social media.
Secondly, there are fighters out there who would have taken Fury on – credible people. Andy Ruiz, Martin Bakole, Fillip Hrgovic, and the list goes on. Why is he not fighting them? Why is he fighting the guy who has never boxed but has a strike in MMA over which people have varying views – it's hard or it's not so hard. This is not Floyd Mayweather versus Conor MacGregor. That had genuine questions, especially as it was the first of its kind. People wanted to know if MMA could compete with a noble art. And it pretty much could. Now, we don't really need to nor want to know. But money talks. This is happening because an obscene amount of money is on the table – as it had been for the Usyk fight – but Ngannou appears to be a better fit for Fury. Fury is beginning to look as if he does not want to unite the heavyweight division and he does not want to face either AJ or Usyk. I don't think that is true, but I am but one voice.
Finally, the WBC needs to resolve Fury's inaction, along with the non-event that is the Ruiz/Wilder elimination fight. The latter is becoming its own circus whilst Fury, not defending the belt, is being allowed to drag on. His masterful defeat of Dillian Whyte was great but his perfunctory win against Derrick Chisora is, if you believe that you are only as good as your last fight, his current legacy. Fury will not fight again in 2023. We have been fooled into thinking that the Middle East in December would have AJ, Usyk, Wilder and Fury in a massive double bill.
It won't.
We have Usyk taking on the WBA belt holder below him, Daniel Dynamite Dubois, Joe Joyce seeking revenge against Zhilei Zhang and a rematch between AJ and Dillian Whyte. That looks like the definition of 2023. A few weeks ago, I wrote that the heavyweight division was healthy and being spoken about and I have not completely changed my mind. I still think it is a fantastic testimony to the richness and the depth of fighting in the square ring in the world today.
But…
It risks losing all that, unless the world titles are united, and the big fights needed to make that happen, happen. If by Easter, 2024, AJ has not fought Wilder and Fury has not fought either AJ or Usyk, then we are in a different place – then the division is faltering. And in their shadow, the fights that are being made which have included Terence Crawford Vs Errol Spence, JR. are left in the wrong type of shade. We shall see the love affair with boxing fading, and it will leave the likes of Ngannou in a place where they might even think they can come in and conquer all. That is the greatest risk we face, never mind the Paul brothers as that is an entirely different circus story.
Click Here to Order Boxing Interviews Of A Lifetime By "Bad" Brad Berkwitt