Ringside Report Looks Back at Boxer Bradley Saunders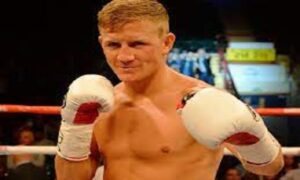 By Donald "Braveheart" Stewart
As we hear the welcome news that boxing has been saved for the 2024 Olympics and possibly beyond, thanks to the International Olympic Committee kicking the allegedly corrupt and mismanaged amateur boxing AIBA/ IBA/whatever it tried to be called organization, the route many boxers take from sitting at home unhealthily, through the amateur ranks and onto a professional career has been cleared again. They can reach for their stars once more and have faith they may get exactly what they deserve after so much effort and pain.
But as I have so often found when looking at our boxing superstars of yesteryear, the move from amateurs to professionals is never that straight forward and many a fighter falls by their own wayside rather than manage to transfer world level titles from one code to another. Often that is thanks to being unable to adjust to the new way of fighting; Sometimes something just catches up with you and your body begins to object to all the punishment it has been taking.
For 2008 Olympian, Bradley Saunders 13-1, 10 KOs, that breakdown was literally all in his hands.
Hailing from the northeast of England – Stockton-on-Tees, this rugged campaigner had a sterling amateur career. Fighting for England he is a Commonwealth silver medalist, gold medalist and bronze medalist at European level and bronze world amateur medal holder. He made it to the 2008 Olympic squad and boxed twice at the Beijing Olympics, not being able to get beyond the second fight. He is also the longest serving boxer on Team Great Britain.
His amateur journey began nationally with winning the Amateur Boxing Association (ABA) title in 2006, and qualifying for the worlds in 2007, in Chicago. There he bagged himself a bronze after beating local guy, Javier Molina and the French fighter Alexis Vastine – a name that was to come back and haunt him in China a year later. He became part of a squad that promised much, including the likes of Joe Murray and Franke Gavin.
In Beijing he sailed past Samuel Kotey Neequaye of Ghana before losing to a familiar looking Frenchman in Vastine. As he watched others moving from amateur to professional, he decided to stay amateur and went to the Commonwealth Games in 2010. His dedication was rewarded with a silver medal. He boxed four times including in the final which ended in a loss to Indian boxer, Manoj Kumar. Between the worlds and the Commonwealth Games he gathered medals at the European Union championships in 2009 – gold – and was making his way towards the 2009 world championships – then he broke his thumb and was out of the world championships.
On the 10th of February 2012, before the world descended upon London for their Olympic Games, Saunders made his professional debut under promoter Frank Warren with a 3rd round stoppage of Jason Nesbitt in the 3rd round in York Hall. Saunders seemed well suited to the professional game as he was a hard hitter and raced into 12 fights unbeaten with 9 knockouts. But his hands were the problem.
As he reflected in an interview with British daily newspaper, the Daily Mirror, "I had ruptured the ligament tendons in both hands in my last fight." That last fight had been his first professional defeat in Liverpool when he had been disqualified on the 19th of September 2015 when up against Renald Garrido. He explained further in a conversation with the website, British Boxing News, "Left hand went in the second round, right hand went in the fourth. I didn't want to turn my back or take a knee, so that [headbutt] was my way of keeping him off."
What had happened was that Saunders had ruptured ligaments and damaged previous bone grafts in both hands. Surgery was called for and a specialist hand surgeon, Mike Hayton, obliged for a third time. He reflected to British Boxing News, "so the surgeon took bone from my hips and used it to build the bones on both my hands. It has made them more compact, solid, and there is less movement. They will never look normal, but they feel as good as they have ever done. My hips were sore for two months afterwards because they go in with a hammer and chisel. So, I've got snake hips and a new pair of fists."
On the 23rd of June 2017 Casey Blair was his opponent and Saunders, now fighting under the Matchroom banner, took him out in the first round in Newcastle, but the dream, even after two years out of the ring, was over.
But Saunders was ready for the change and has two companies to provide for his family, so this was a man who was no slouch inside or outside the ring.
Click Here to Order Boxing Interviews Of A Lifetime By "Bad" Brad Berkwitt