Legendary Melissa Manchester Signs With Green Hill Productions – Breaking Entertainment News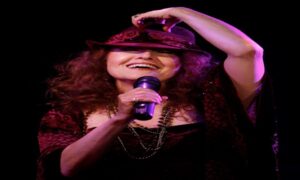 Celebrating 50 years of creating and touring, GRAMMY award-winning singer, songwriter and actress Melissa Manchester has inked a deal with Green Hill Productions to release her upcoming 25th album.
"I'm delighted to know Blake Davis and the excellent team at Green Hill will be releasing my 25th album, RE:VIEW, in celebration of my 50-year career," Manchester says. "RE:VIEW revisits several of my charted hits with some grand guest artists.
"It is thrilling, too, to take my place on Green Hill's shining roster alongside some of the world's (and my) most beloved artists, including my musical godmother Ella Fitzgerald, Nat King Cole, Olivia Newton-John, Duke Ellington, Elvis Presley and Earth, Wind and Fire to name just a few. I look forward to the unfolding of this grand next adventure with Green Hill!"
Blake Davis, General Manager, Green Hill Productions, adds, "What a pleasure it is for Green Hill to be able to work with an artist of Melissa's caliber. Her incredible gifts have brought her major success stories in writing, acting, and singing, not to mention a career spanning over 5 decades. The reimagined songs on this album not only include many of Melissa's superstar friends but are classic Melissa hits that have brought people joy for many years. The team at Green Hill is excited for fans both new and old to hear this great project."
The musical icon is set to star as Mrs. Brice in the North American tour of Funny Girl, kicking off September 9 at Providence Performing Arts Center in Providence, RI, before continuing on to more than 30 cities coast-to-coast, including Detroit, Cleveland, San Francisco, Washington, D.C., Dallas and Philadelphia.
Manchester, whose previous musical theater experience includes national tours of two Andrew Lloyd Webber shows, Song & Dance and Music Of The Night, will perform such beloved selections as "If A Girl Isn't Pretty" and "Who Taught Her Everything She Knows?" in Funny Girl, adding to the stunning collection of classics to which she's lent her luminous voice over the years – "Midnight Blue," "Don't Cry Out Loud," and "You Should Hear How She Talks About You" are among her hits.
About Melissa Manchester:
In 1980, Melissa Manchester became the first recording artist in the history of the Academy Awards to have two nominated movie themes in a single year – "Through the Eyes of Love" from Ice Castles and "I'll Never Say Goodbye" from The Promise – and to perform them both on the Oscar telecast. Manchester starred in the national tours of Andrew Lloyd Webber's Music of the Night and Song and Dance, and created the role of Maddy, the title character's mother, on the NBC hit TV series Blossom. She was nominated for a GRAMMY for "Don't Cry Out Loud" in 1980 and she won the GRAMMY Award for Best Female Vocalist in 1982 singing "You Should Hear How She Talks About You."
Manchester celebrated her tenure as Artist In Residence at Citrus College with the release of her 21st album, The Fellas, a tribute to the iconic male singers who set the platinum standard for pop music. In 2021, Mancester was inducted into the Great American Songbook Foundation's Hall of Fame and she had the pleasure of saluting her longtime colleague, Bette Midler, on The Kennedy Center Honors awards telecast.
Manchester's 25th album, RE:VIEW, due out in 2024 in celebration of her fifty-year career, features fresh takes on several of her nineteen Billboard-charted classic hits.
About Green Hill:
Green Hill Productions, a subsidiary of Primary Wave Music, is a boutique record label currently celebrating over 25 years of creating top-quality lifestyle music for every mood. With over 1000 titles in its diverse catalog, Green Hill covers an amazing variety of genres and targeted themes including jazz, New Age, Neo Classical, POP, Rock, Celtic, Christmas, chillout, bluegrass, Cajun, easy listening, nature, piano, romance, relaxation, oldies, beach, western, world, patriotic, big band, classic crooners, and many others. In addition, Green Hill produces recordings on such performers as Olivia Newton-John, Paul Anka, Frankie Valli, David Arkenstone, Beegie Adair, Jim Brickman, Jack Jezzro, Luke McMaster, Deep Wave and more.
Click Here to Order Boxing Interviews Of A Lifetime By "Bad" Brad Berkwitt