Judge Sets March 2024 Trial in Trump Jan. 6 Case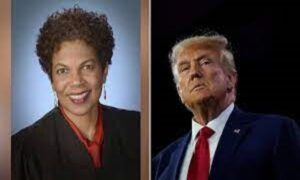 By Nikki Slusher
The federal judge overseeing the federal election case of the former president set a trial date on Monday. Judge Tanya S. Jackson set the trial to begin on March 4, 2024; rebuking Trump's proposition to move it way back until 2026. If he becomes the Republican presidential candidate for 2024 and is re-elected, Trump would be a year into his second presidential term and have immunity due to his position as president, then having his appointed attorney general throw out the federal cases.
Chutkan's decision is a small win for federal prosecutors, who had requested for January 2024, but relieved the "extraordinary complexities" involving three out of four of his criminal probes had not delayed the trial start by much. DA Fani Willis, the prosecutor in Fulton County, Georgia, has also proposed starting Trump's trial for state election charges for March 4, 2024. His case in Manhattan is set to start a few weeks later on March 25. The classified documents case in Florida is set to begin in May 2024.
March 4th is a notable date for Judge Chutkan to select. It's the day before Super Tuesday, where 15 states will hold Republican presidential primaries or caucuses. She made it clear she expects Trump to maintain time in his schedule for the trial while amidst his campaigning. "Mr. Trump, like any defendant, will have to make the trial date work regardless of his schedule," Judge Chutkan said. She added that "there is a societal interest to a speedy trial."
She also noted that while Trump is welcome to appeal, scheduling decisions aren't usually challenged in higher courts prior to a defendant receiving a conviction. At this time, Trump has been indicted by grand juries in four locations – Washington D.C., Florida, Georgia, and New York. He is facing 91 felony counts (and growing).
As MSNBC Host Mehdi Hasan said best, "We should thank Black women for doing what a bunch of white guys have failed to do for years: hold Donald Trump, hold a former president, accountable." Honestly what a dream team of people defending our democracy against the former Cheeto-in-Chief. Judge Aileen Cannon, who is overseeing the Florida case, should take some notes on how things are supposed to be done.
Click Here to Order Boxing Interviews Of A Lifetime By "Bad" Brad Berkwitt