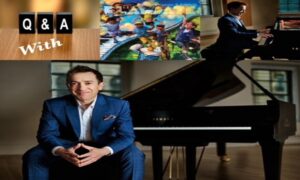 Exclusive Interview by Karen Beishuizen
Geoffrey Keezer is an American jazz pianist. In 2023, he won the Best Instrumental Composition Grammy for his song "Refuge". He played with Art Blakey & the Jazz Messengers until Blakey's death in 1990. He gives online jazz piano courses. Check out his great new album "Playdate"!
KB: Did you always want to be a jazz pianist?
I think I always wanted to be a musician first. My parents were both music teachers – my dad played drums and my mom played French horn and taught piano and voice. My first instrument was the drums, and after that, around age 5 or 6, the Arp 2600 synthesizer! The electronic music lab at the university where my dad taught had one of those early modular synths (this was 1976), and dad got one of his students to teach me how to program and play the thing. We made 4-track reel-to-reel recordings on it… at first it was sound effects like laser battles and robots, but eventually we were doing Bach two-part inventions when I got better at playing the keyboard. It was really because the Arp synthesizer was keyboard controlled, that someone suggested to my parents that I take piano lessons. So that's where the piano started for me in earnest.
I studied beginner piano and eventually a bit of classical piano, but all along I preferred to make up my own music, even before I knew what "improvising" was. I got really interested in Black American Music and jazz as a teenager. It was a trip to NYC with my parents when I was 15 that got me hooked. I saw Mulgrew Miller and McCoy Tyner play Live, and it was so incredibly inspiring that I decided then and there that it would be my career path.
KB: You were 18 when you played piano for Art Blakey?
It was truly a "Law of Attraction" kind of thing! I fell in love with records by Art Blakey & the Jazz Messengers as a teenager and had a band of like-minded musician friends in high school who got together to play those songs. Then I went to the Berklee College of Music for a year, where I joined the "Art Blakey Ensemble" led by a Messenger alum (saxophonist) Bill Pierce. We played a ton of those tunes. It was during this time I befriended pianist (and another Jazz Messenger) James Williams, and I would take the train from Boston down to NYC to hang with James on the weekend. James took me up to Mikell's, a club on the upper West Side that no longer exists, to hear Art one night, and Art invited me to sit in. Benny Green was the pianist at the time. I played a couple of tunes that I knew.
Later the same year, I was again invited to sit in with the band in Boston (again, Benny graciously allowed me to play his piano). Then I didn't hear anything more from Art until that fall (September 1989), I had just moved to NYC, and I got a call from Art's tour manager asking me to join the band. It was really a dream come true. I stayed with the band for a year, until Art's passing in 1990.
KB: Is there another genre music you would like to dabble in but never tried?
It's hard to think of anything. I'm interested in so many different kinds of music from all over the world, and I've either collaborated with musicians from those different cultures and genres, or I've incorporated elements of those Musics into my own playing. I've even played country music and hip-hop. I would like to learn more about Indian classical music, it's so complex and fascinating.
KB: You teach classes and online courses?
To date, I have four online jazz piano courses on openstudiojazz.com. They're all fairly advanced, meant for pianists that have some experience and a good working knowledge of jazz piano vocabulary. The lessons are meant to help pianists become their own best teacher, to learn how to practice, not just what. They're designed to hopefully inspire pianists to think a little differently, to get out of their comfort zone, to try things. In the non-virtual world, I teach at the Juilliard School in NYC as well as traveling worldwide to perform and teach.
KB: You won a Grammy this year for your song "Refuge". What does this mean to you, winning an award like that?
I won a Grammy award in the Instrumental Composition category for my song "Refuge", the first track on my new album "Playdate" on MarKeez Records, a very tiny independent label I run with my wife (vocalist) Gillian Margot. It was a huge compliment to win, as I was in very heavy company with some great contemporary composers and colleagues of mine! Hopefully as musicians, we don't create our art to win contests, and it's all very subjective anyway. But it's a really nice honor to receive it, and the Grammy event in Los Angeles is a fun hang.
KB: Are there any current artists you would love to collaborate with and why?
There are still a few on my bucket list. Paul McCartney, because he's constantly creating and coming up with new stuff. I dig his music and he's supposedly a super nice guy. Terri Lyne Carrington – we've been on events together and in the same space but haven't yet really had a chance to play together in a significant way. And there's quite a few current artists that I have already collaborated with, or have accompanied, but would love to again, because every time it's something different and new! Dianne Reeves, Sting, Christian McBride, Ron Carter, Keola Beamer are a few that come to mind.
KB: An album with 7 of your most favorite songs (not your own): what would you pick and why?
Wow, that's a tough question! There are so many great songs out there that I could connect with. It would have to be a triple album!
Check out Geoffrey's website: HERE
Find him on Facebook: HERE
Click Here to Order Boxing Interviews Of A Lifetime By "Bad" Brad Berkwitt