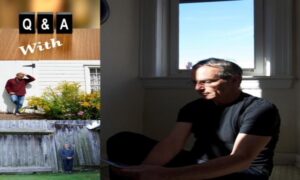 Exclusive Interview by Karen Beishuizen
Photos provided by Kenjamin Franklin / RadioTV.com
John DeNicola won an Academy Award, a Golden Globe and a Grammy for the song "Time of My Life" which we all know from the movie "Dirty Dancing". He also co-wrote "Hungry Eyes" for the same movie. He founded his own record label, Omad Records, and signed a band called Kara's Flowers. We know that band now under a different name: Maroon 5.
KB: Did you always want to be a singer/songwriter growing up?
I always wanted to play music. I knew I wanted to do something in music but not necessarily singer/songwriter. I think I was more interested in being a musician and my focus early on was playing bass guitar. I sang here and there in groups I was in but didn't aspire to be a lead singer. It wasn't till recently that I "found my voice "so to speak. I started Songwriting in my twenties as we needed material to perform in the original bands, I was in. Someone had to do it.
KB: You co-wrote "Time of My Life" for the Dirty Dancing movie. It earned you an Academy Award, a Golden Globe award and a Grammy nomination. You also co-wrote "Hungry Eyes" for the same movie. Looking back now, how did you feel about the enormous worldwide success and how do you feel now?
l feel honored, lucky and thankful now. Watching the movie take off and then the songs and then the movie again was a wild ride that not every songwriter gets to experience. No one at the time could ever guess the enormity of its popularity and influence on American culture. References to the movie or the songs seem to pop up in so many different places, movies, TV and commercials. The songs do not seem to be slowing down.
KB: You founded Omad Records and signed a band called Kara's Flowers. They became Maroon 5. Do you wish they were still signed with your label?
It would be nice. I am happy for them and their success. Adam Levine gave us a nice shout out on the Voice. He was asked on the show what was your chair turnaround moment and he mentioned us as the ones that first turned their chair for them and noticed their talent.
KB: Of all the artists you worked with, do you have a favorite?
I probably don't have a favorite. Every experience is different and good in its own way. As a youngster I had a favorite band out of the San Francisco scene named Moby Grape. One of its members Peter Lewis and I have made two records together, "The Road to Zion" and "Imagination" which has been quite a lot of fun. "Imagination" has 5 songs that we wrote together. We are also making a documentary on Peter entitled "Fall on You". His mother was the Academy award winning actor Loretta Young, and he has had an interesting life and is quite a sage, so the documentary is going to be very interesting. He is also passing his musicality on to his daughter Arwen Lewis, (we've also done two records with her), who is also part of the documentary story.
KB: Album with 7 of your most favorite songs (not your own): what would you pick and why?
1. Wichita Lineman (Glen Campbell): perfect marriage of a melody and lyric and maybe one of the greatest lyrics and imagery of any song.
2. Hurt So Bad (Little Anthony): Little Anthony vocal is perfectly sung with just the right amount of soul and sincerity. The song is so well written and the production by Teddy Randazzo (who also wrote it) is just beautiful.
3. Norwegian Wood (The Beatles): John's vocal and chord progression are just perfect.
4. Superwoman (Stevie Wonder): Great song and Stevie's use of synths is worth the price of admission.
5. Strawberry Fields (The Beatles): This is a splicing together of two versions of the song both at different tempos and different keys. George Martin genius was to speed up one, slow down another and splice together. One of the first uses of reverse tape so it's very trippy. John Lennon is my favorite songwriter.
6. Omaha (Moby Grape): the interplay and energy of three guitars and great vocals and harmonies puts this song and this band in the top of any of my lists.
7. He (Moby Grape): Peter Lewis sings this and wrote this. It's a perfect timepiece. It reflects the times so well. It's about someone who dropped acid at Monterey Pop festival and had some observations and enlightenment. Peter's voice and lyrics are just amazing. He is an underrated songwriter for sure.
I'm sure I left many out, but these came to mind first.
KB: Are there any current artists you would love to collaborate with?
Paul McCartney, Kevin Parker, Steve Winwood, and Alex G
KB: What are you currently up to?
We just put out Peter Lewis "Imagination" on my Omad Records label and we are about to release Robert LaRoche (ex The Sighs) "Forevermore" album in September. Both are produced by myself in my barn recording studio. I just scored a funny short movie entitled "Babyface" and as I mentioned the documentary "Fall on You" about Peter Lewis.
Check out John's website: HERE
Find John on Facebook: HERE
Find John on Instagram: HERE
Click Here to Order Boxing Interviews Of A Lifetime By "Bad" Brad Berkwitt