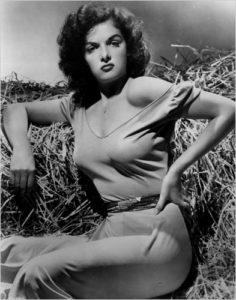 By Geoffrey Huchel
Ernestine Jane Geraldine Russell, known simply as Jane Russell, was born on June 21, 1921 in Bemidji, Minnesota. She was an American film actress, model and singer. She was the eldest child and only daughter of five children to Geraldine and Roy William Russell. Geraldine and Roy lived in Canada prior to Russell's birth and returned there nine days after she was born. The family lived in Canada for the first two years of Russell's life and then moved to Southern California where Roy worked as an office manager.
Geraldine arranged for her daughter to take piano lessons. Besides music, Russell was interested in drama and participated in stage productions at Van Nuys High School. She studied drama and acting with Max Reinhardt's Theatrical Workshop. Jane Russell would become known for being a legendary actress of film, and one of Hollywood's leading sex symbols in the 1940s and 1950s, making her a popular pin-up model with servicemen during World War II.
Russell's career began in the early 1940s when she was signed to a seven-year contract by film mogul Howard Hughes at RKO. She made her motion picture debut in Hughes's THE OUTLAW (1943). Russell played Rio McDonald in the film about the legend Billy the Kid. This film went to great lengths to showcase Russell's voluptuous figure. Russell played Calamity Jane in THE PALEFACE (1948) co-starring Bob Hope. The film was a box office hit, earning $4 million.
The 1950s were a busy decade for the starlet as she appeared in more than a dozen films including HIS KIND OF WOMAN (1951), with Robert Mitchum, DOUBLE DYNAMITE (1951), with Frank Sinatra, the film noir THE LAS VEGAS STORY (1951), opposite Vincent Price, MACAO (1952), with Robert Mitchum and Gloria Grahame, and GENTLEMEN PREFER BLONDES (1953), playing Dorothy Shaw.
Russell was on loan for Twentieth Century Fox for this picture and starred opposite another screen legend, Marilyn Monroe. The film was a huge success for the studio, making over $5 million. Back at RKO, she appeared in the musical THE FRENCH LINE (1953) and UNDERWATER (1955), both produced by Howard Hughes. Russell starred opposite Clark Gable in the western THE TALL MEN (1955), one of the most popular films of the year, and FOX FIRE (1955), with Jeff Chandler.
Russell also starred in GENTLEMEN MARRY BRUNETTES (1955), alongside Jeanne Crain. The film, a sequel to GENTLEMEN PREFER BLONDES was not as successful as the original. During the late 1950s and early 1960s, Russell made television appearances on series such as COLGATE THEATRE (1958), appearing in 1 episode, WESTINGHOUSE DESILU PLAYHOUSE (1958), appearing in 1 episode, DEATH VALLEY DAYS (1952), appearing in 1 episode (1960), and THE RED SKELETON HOUR (1951), appearing in 2 episodes (1959-1963).
Russell returned to film work for 1964's FATE IS THE HUNTER, making a cameo appearance. The film starred Glenn Ford, Rod Taylor and Suzanne Pleshette. She also appeared in the films WACO (1966), JOHNNY RENO (1966), THE BORN LOSERS (1967) and DARKER THAN AMBER (1970). Toward the end of her career, she returned to television in THE YELLOW ROSE with Sam Elliot and Cybill Shepherd, and guest-starred on the popular crime drama HUNTER (1984).
In addition to her film career, Russell made her Broadway debut in the musical drama COMPANY in 1971, where she played the role of Joanne for six months. She also had a successful solo nightclub act at the Sands Hotel in Las Vegas, as well as a self-titled solo LP on MGM Records in 1959. In 1985 she wrote an autobiography entitled Jane Russell: My Path and My Detours.
In 1989 Russell received the Women's International Center Living Legacy Award. She received a star on the Hollywood Walk of Fame and was voted one of the 40 Most Iconic Movie Goddesses of all time.
Jane Russell died at her home in Santa Maria, California, of a respiratory-related illness on February 28, 2011. She was 89 years old. Russell left behind a wonderful legacy and lived a very full life.
Essential Russell:
THE OUTLAW (1943)
THE PALEFACE (1948)
HIS KIND OF WOMAN (1951)
GENTLEMEN PREFER BLONDES (1953)
THE TALL MEN (1955)
*I dedicate this tribute to my paternal grandmother, Lillian "Jane" Raymond, who not only shares my appreciation for classic Hollywood, but bares a striking resemblance to Ms. Russell. Because of that, she likes to be called Jane. It makes her feel young, and she is young at heart.*
Contact the Feature Writers