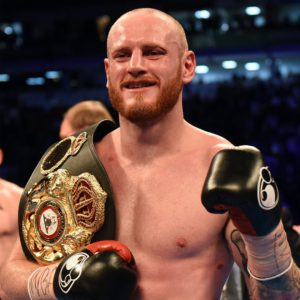 By Tyler "The Miracle Man" White
Maybe I am biased, but for me, George Groves is one of the finest British fighters of recent years – the amount he achieved during both his 10 year amateur career and 10 year professional career is nothing short of spectacular and the way in which he went about achieving all he did left boxing fans incredibly satisfied with the "Saint".
Initially, Groves started kickboxing at the age of 7, where he had a lot of success, including multiple junior world titles and a European title too!
At the age of 10, he also took up boxing with Dale Youth ABC and during this time as an amateur boxer, he won 4 schoolboy titles and 2 senior ABA titles, compiling a 75 fight resume.
After hanging up the gloves in his amateur career, Groves turned professional aged 20 and signed under the umbrella of Haymaker Promotions, as he worked closely with both Adam Booth and David Haye.
Groves racked up an impressive record, with multiple stoppage wins, before earning his first title shot against Charles Adamu. It was in this fight that Groves won the Commonwealth Super Middleweight title, which he would later go on to defend against former Amateur rival – James DeGale.
It was that defense against DeGale that really helped to propel Groves into the spotlight, as he won via majority decision, stealing away DeGale's Lonsdale belt in the process.
After some more successful defences, Groves managed to secure himself a fight with "The Cobra" Carl Froch…
The build up to this one was intense and entertaining to say the least, Groves succeeded in getting into the head of Froch and it showed on the night when Britain – and the World for that matter – were shocked as Groves knocked Froch down, hard!
Despite being on top for the majority of the fight, Froch came back and got the win due to a questionable stoppage by the referee.
This "early" stoppage, set the scene for a massive rematch and one that would go on to set the tone for British boxing over the next few years, with a super fight at Wembley stadium in front of a sell out crowd of 80,000 boxing fans.
Unfortunately for Groves, he was stopped conclusively in the rematch, but none-the-less, he had established himself in the elite class and showed both Britain and the World all of the potential, skill and power that he possessed.
In a bid to come back into World title contention, Groves beat Christopher Rebrasse to win the EBU European title before challenging Badou Jack for the World title. Once again, Groves came up short and it looked like that ultimate goal would do whatever it could to avoid him.
Groves went on to rebuild again, with fights against the likes of fellow Britons, Martin Murray and David Trophy – securing wins in both.
"The Saint" went on to face Fedor Chudinov for the vacant WBA Super Middleweight title in 2017, where he finally realised his dreams and became a World champion after an impressive performance and an emphatic stoppage victory!
To top it off, Groves then risked it all by entering the World Boxing Super Series, where he totally dominated both Jamie Cox and Chris Eubank, JR. Beating the latter with a badly dislocated shoulder that put us all on the very edge of our seats.
Unfortunately for the London-based man, his career didn't have the fairytale ending as Callum Smith seized the World crown from him in the final of the WBSS competition, but never-the-less, Groves lost to a man who is dubbed to be the next big thing in the super middleweight division.
Not only did Groves deal with a lot of competitors inside the ring, but he will have undoubtedly had to deal with the mental demons that come alongside damaging another man long term.
Sadly after his fight with Eduard Gutknecht in 2016, Gutknecht was taken ill and suffered some serious brain damage, the fighter now requires full time care and is unable to lead a normal life.
This is an incredibly unfortunate outcome for Gutknecht, but also one that Groves had to come to terms with, whilst still trying to fulfil his dreams and ambitions…
"Saint" George Groves handled life inside and outside of the ring with real class and it's a shame to see him leave a sport that he achieved so much in, however, it's nice to see a fighter retire at the right time, with his health intact and his finances in order.
We, at the Ringside Report, wish George Groves all the very best in his retirement and thank him for many entertaining fight nights!
Check out Tyler "The Miracle Man" White who is part of a new podcast called "British Boxing Talk" on Apple Podcasts and Spotify</
Contact the Feature Writers