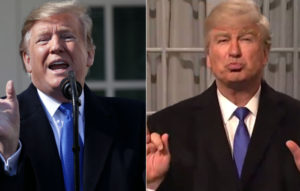 Donald J. Trump
✔
@realDonaldTrump
Nothing funny about tired Saturday Night Live on Fake News NBC! Question is, how do the Networks get away with these total Republican hit jobs without retribution? Likewise for many other shows? Very unfair and should be looked into. This is the real Collusion!
101K
6:52 AM – Feb 17, 2019
Alec Baldwin's Response from CNN Business:
Alec Baldwin, the actor who plays President Trump on "SNL," is responding to the president's latest shot at the show. Baldwin is asking if Trump's tweet "constitutes a threat" to his family's safety. On Saturday night Baldwin reprised his Trump impersonation for an "SNL" skit that recreated the president's Friday morning speech about the border, the budget, and assorted other subjects. By "SNL" standards, it was par for the course. But Trump — who has fired back at the show numerous times in the past — fired up his Twitter account again on Sunday morning.