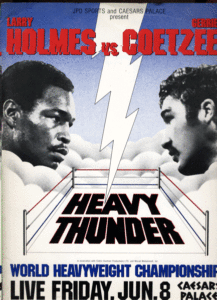 By Brian "The Beret" Young
Hello again fight fans. As we continue with the dedication of the column to Black History Month I would like to again put my historian hat on and talk about a time in the not too distant past. A time that those of us who lived through it will never forget, but, sadly many people who were too young to grasp or were born after it know far too little about. A time known as Apartheid in South Africa. Very briefly, Apartheid was a period between 1948 through the early 1990's where enforced segregation (known as baasskap- or white supremacy) was the rule of law in South Africa. This article is about when the Heavyweight Champion of the World (along with countless others) did his part to oppose this regime.
In 1973's Enter the Dragon, Bruce Lee famously told Peter Archer that his style was "The art of fighting, without fighting". In 1984 Larry Holmes, then Heavyweight Champ, did just that by refusing to unify the title by fighting WBA Champ Gerrie Coetzee in what would have been his most lucrative fighting option at the time.
Coetzee became the WBA Champ on September 23rd 1983 by defeating Michael Dokes, but most of the boxing world still felt the true Champ was Larry Holmes. Don King, always a master of promotion, decided the black Champ Vs Apartheid South Africa's first ever champ would set records and line everyone's pockets. One problem, tennis legend Arthur Ashe and entertainer Harry Belafonte, both also key figures in the civil rights movement, formed an organization called Artists and Athletes against Apartheid (AAAA).
Many athletes and celebrities such as Muhammad Ali, Gene Upshaw, Tony Randall, Dick Gregory, Carlos Santana, Paul Newman the champ himself Larry Holmes and yes, even Don King were members of this group (along with dozens and dozens of others). They were dedicated to dismantling Apartheid by doing everything in their power to do so, including boycotting anything that would help profit the government of South Africa.
Don King went to work on setting a fight, in South Africa of all places, prompting backlash from fellow members of AAAA including Ashe and Holmes. Holmes refused to fight Coetzee and instead set up a title defense against James "Bonecrusher" Smith. Not getting Holmes to sign on didn't stop King. He quickly set up a title fight and signed Greg Page to go to South Africa for the fight. Holmes was quoted as saying "I think King should be ashamed of himself, he's always talking about his principles. It seems he sold em. If a man's got principles, you can't buy em." And this wasn't the first time Holmes called out people over this. In 1980 when Mike Weaver went to South Africa to defend the WBA title (and beat) Coetzee, Holmes called Weaver, "a traitor to his country and a traitor to his race".
Larry Holmes is often criticized for only "caring about the money". However, it is reported that he turned down 30 Million dollars (an unheard of amount of money then) to go to South Africa and fight Coetzee. Principles were more important than money to the champ. Holmes often publicly spoke out against Apartheid and was even arrested along with Desmond Tutu, Rosa Parks, Yolanda King, Amy Carter (daughter of President Jimmy Carter), Jesse Jackson and 25 members of congress at a protest outside the South African Embassy in Washington D.C in February, 1985.
At this time, I feel I have to explain that Gerrie Coetzee himself was not a fan of Apartheid by any means, he publicly expressed that (of course he had to cover what he said by also stating, "But I am too young to discuss politics"). And Holmes didn't have a problem with Coetzee himself. In fact, they almost did sign to fight in June of 1984, in Las Vegas, but the fight that fell through because of sketchy financial deals between promoters. Holmes was against doing anything that would help or profit a mandatory racist society that still had the great Nelson Mandela (a boxer himself in his younger days) locked away in prison since 1962.
It's no secret to anyone who knows me, or anyone who has read my past articles, that Larry Holmes was my childhood hero and remains a hero of mine to this day. Often people ask me why? Maybe this article will help to answer that question for some of you. Not only was Larry a great fighter, but he is also a man of great principle. Yes, Larry Holmes fought oppression by not fighting.
Remember to submit your questions/comments to me via the form box below by selecting Brian "The Beret" Young and follow me on Twitter @BoxingGuyBrian
Contact the Feature Writers