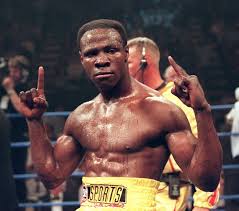 By Tyler "The Miracle Man" White
People either love him or they loathe him, Chris Eubank, SR. Is undoubtedly one of Britain's best known former World champions.
It was the rivalry between he and Nigel Benn that most will remember him for, including all of the publicized build up and animosity between the pair as well as their two classic fights which saw Eubank seize Benn's World title in the first.
Senior's career also saw him in with the likes of the Michael Watson, Steve Collins, Carl Thompson and also Joe Calzaghe, providing fans with entertainment throughout.
After 52 fights as a professional, Eubank, SR. Retired from the sport and today he works as a police officer out in Louisiana, USA, whilst also helping to manage his son Chris Eubank, JR's career.
It's hard now not to notice Eubank, SR. as he stands out like a sore thumb amongst all of the tracksuits and baseball caps that usually accompany fighters and their teams at press conferences and weigh-ins.
The former World champion dresses sharply, always suited and booted, which alongside his very "posh", calculated and sophisticated accent makes it hard not to pick him out amongst the crowd.
Aside from his appearances at official fight related events however, Eubank, SR. also takes part in a lot of the pre-fight build up, including interviews with boxing channels and just the other day I came across one of which he did with ITV.
During this interview, Eubank babbled on a fair bit and took his time to eloquently answer even the simplest of questions, but he made so much sense and offered a lot of wisdom to fighters coming through.
Eubank gave some really good advice and even reflected on both his own career and that of his son's so far – he also didn't hold back with his criticism of Eubank, JR. admitting that his career has not gone where he expected it to, putting that down largely to his son's inability to listen to advice.
With a father like Chris Eubank, SR. it must be incredibly difficult to live in his shadow, sharing his name and also fighting as a professional with a lot of weigh upon your shoulders, but from this short interview it comes across as incredibly frustrating that Eubank, JR. doesn't seem to want to listen to his fathers advice.
In the interview, Senior indirectly admits that his son seems to have some sort of issue when it comes to fight night, not with the event itself but with his own mind. Essentially saying that it is Eubank, JR's ego that prevents him from performing at his best!
In fact, Eubank even speaks on how his son used to "beat up" George Groves in sparring, but come fight night it was an entirely different story, as we saw Groves comfortably outpoint and outbox a very flat, Eubank, JR.
Listening to Eubank, SR. I feel that this fight between Junior and DeGale is possibly his last opportunity to prove that he actually has what it takes to be a World class fighter; so let's hope for the sake of his career and his legacy, that Eubank, JR. can not only listen to his corner but also implement what he's being told between rounds!
Whilst it must also be very frustrating in one sense for Eubank, JR. to have such a well known father who has achieved the highest accolades in the sport, it is also in another sense a blessing as he has someone there to support him who has, as the saying goes, "been there, done that; got the t-shirt"…
It would be a shame if Junior's career is defined as one that "could've been" so much better than it was and for the sake of his own legacy, I hope that he can either really start listening and taking advice on board from his father, or completely up-sticks and move elsewhere and put himself under the tutelage of someone else that can help him fulfil his potential!
There's too much talent and athleticism there to go to waste…
Check out Tyler "The Miracle Man" White who is part of the podcast show called "British Boxing Talk" on Apple Podcasts and Spotify</
Contact the Feature Writers