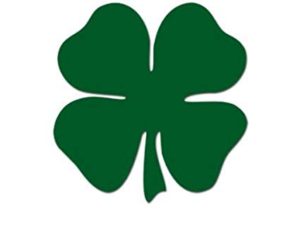 By Geoffrey Huchel
St. Patrick's Day is upon us, which means it's that time to proudly wave the Irish flag, throw on your favorite shamrock filled t-shirt, call your buddies and head out to the pub for a night of music, laughs, green beer drinking and shenanigans, on one of the biggest party days of the year. But if you don't fancy a wild night out on the town perhaps you prefer spending the holiday in a more low-key fashion, from the comfort of your own home, watching some fantastic Irish movies, which doesn't mean you can't enjoy a tall glass of Guinness too. If you happen to be born on St. Patrick's Day, like I was, this day is extra special and another reason to go out and celebrate. In honor of Ireland and St. Patrick's Day, check out these great titles to help commemorate the occasion. Erin go Bragh!
THE QUIET MAN (1952) Running Time 2 hr 9 min
Directed by John Ford
Starring: John Wayne
Maureen O'Hara
Victor McLaglen
Plot: After accidentally killing an opponent in the ring, boxer Sean Thornton (John Wayne) leaves America and returns to his native Ireland, hoping to buy his family's farm. Shortly after his arrival he meets and falls in love with fiery Mary Kate Danaher (Maureen O'Hara). Sean learns that Mary Kate's brother Will Danaher (Victor McLaglen), who long coveted the property, also wants to buy the land. Spitefully, Will objects when Mary Kate, who began a romance with Sean, refuses to hand over her dowry. Mary Kate refuses to consummate the marriage until Sean retrieves the money.
DARBY O'GILL AND THE LITTLE PEOPLE (1952) Running Time 1 hr 33 min
Directed by: Robert Stevenson
Starring: Sean Conery
Janet Munro
Albert Sharpe
Plot: Just-fired Darby O'Gill (Albert Sharpe) does not want to tell his daughter, Katie (Janet Munro) that his position has been taken by a dashing young man (Sean Connery). Then, on his way home, Darby slips through a portal to the land of the little people. There he meets the leprechaun king, Brian (Jimmy O'Dea), and winds up accidentally bringing the little monarch home with him. Darby then demands Brian grant him three wishes, but the request brings Darby bittersweet and unexpected results.
MY LEFT FOOT (1989) Running Time 1 hr 59 min
Directed by Jim Sheridan
Starring: Daniel Day-Lewis
Brenda Fricker
Plot: No one expects much from Christy Brown (Daniel Day_Lewis), a boy with cerebral palsy born into a working-class Irish family. Though Christy is a spastic quadriplegic and essentially paralyzed, a miraculous event occurs when, at the age of 5, he demonstrates control of his left foot by using chalk to scrawl a word on the floor. With the help of his steely mother (Brenda Fricker) -and no shortage of grit and determination-Christy overcomes his infirmity to become a painter, poet and author.
IN THE NAME OF THE FATHER (1993) Running Time 2 hr 15 min
Directed by Jim Sheridan
Starring: Daniel Day-Lewis
Pete Postlethwaite
Emma Thompson
Plot: Unemployed young Irishman Gerry Conlon (Daniel Day-Lewis) gets by as a petty thief in 1970s Belfast. When local IRA leaders get fed up with him, he flees to England and meets up with his friend Paul Hill (John Lynch). On the same night that the IRA bombs a nearby pub, the friends get kicked out of their communal digs and are forced to sleep in a park. He returns to Belfast, but is arrested as the prime suspect in the bombing and imprisoned, where he spends 15 years trying to clear his name.
THE SECRET OF ROAN INISH (1994) Running Time 1 hr 43 min
Directed by: John Sayles
Starring: Jeni Courtney
Eileen Colgan
Mick Lally
Richard Sheridan
Plot: Fiona (Jeni Courtney) is a young Irish girl with an unusual family history, including a long-missing baby brother. When she goes to live with her grandparents on the west coast of Ireland, Fiona hears stories about her ancestors, tales that involve mythical creatures called selkies who can shiuft from sea to human form. After Fiona ends up on the small island of Roan Inish, her family's ancestral home, she believes she may have found her little brother living by the sea.
THE BOXER (1997) Running Time 1 hr 53 min
Directed by Jim Sheridan
Starring: Daniel Day Lewis
Emily Watson
Plot: Rising teen boxer and Belfast native Danny Flynn (Daniel-Day Lewis) was imprisoned for 14 years after getting involved with the Irish Republican Army. Newly freed from jail in his early 30s, Danny returns home and attempts to put his life back together. Reopening his neighborhood gym and reconnecting with his lost love, Maggie (Emily Watson), now a single mother while her husband is in prison, Danny battles against his former IRA compadres, including militant Harry (Gerard McSorley).
Contact the Feature Writers